Tread Quotes (7 quotes)
Habit is thus the enormous fly-wheel of society, its most precious conservative agent. It alone is what keeps us all within the bounds of ordinance, and saves the children of fortune from the envious uprisings of the poor. It alone prevents the hardest and most repulsive walks of life from being deserted by those brought up to tread therein.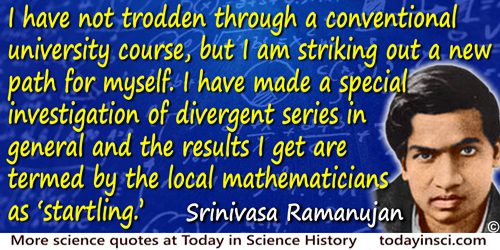 I have not trodden through a conventional university course, but I am striking out a new path for myself. I have made a special investigation of divergent series in general and the results I get are termed by the local mathematicians as "startling."

I have said that the investigation for which the teeth of the shark had furnished an opportunity, was very near an end... But thereafter, while I was examining more carefully these details of both places and bodies [sedimentary deposits and shells], these day by day presented points of doubt to me as they followed one another in indissoluble connection, so that I saw myself again and again brought back to the starting-place, as it were, when I thought I was nearest the goal. I might compare those doubts to the heads of the Lernean Hydra, since when one of them had been got rid of, numberless others were born; at any rate, I saw that I was wandering about in a sort of labyrinth, where the nearer one approaches the exit, the wider circuits does one tread.

In fields of air he writes his name,
And treads the chambers of the sky;
He reads the stars, and grasps the flame
That quivers in the realms on high.

That hemisphere of the moon which faces us is better known than the earth itself; its vast desert plains have been surveyed to within a few acres; its mountains and craters have been measured to within a few yards; while on the earth's surface there are 30,000,000 square kilometres (sixty times the extent of France), upon which the foot of man has never trod, which the eye of man has never seen.

They say,
The solid earth whereon we tread
In tracts of fluent heat began,
And grew to seeming-random forms,
The seeming prey of cyclic storms,
Till at the last arose the Man. …

[William Gull] endeavoured, above all things, to study the natural history of disease, uncomplicated by the action of unnecessary drugs, and he resented all useless interference with the course of nature. He would say of meddlesome poly-pharmacy—"Fools rush in, where angels fear to tread."