Startling Quotes (5 quotes)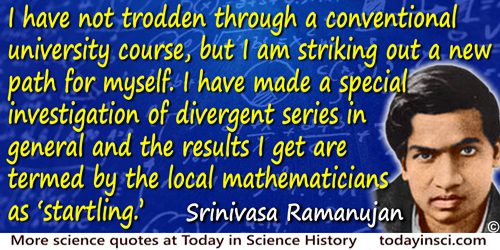 I have not trodden through a conventional university course, but I am striking out a new path for myself. I have made a special investigation of divergent series in general and the results I get are termed by the local mathematicians as "startling."

I was sitting in a chair in the patent office at Bern when all of a sudden a thought occurred to me: "If a person falls freely he will not feel his own weight." I was startled. This simple thought made a deep impression on me. It impelled me toward a theory of gravitation.

One summer day, while I was walking along the country road on the farm where I was born, a section of the stone wall opposite me, and not more than three or four yards distant, suddenly fell down. Amid the general stillness and immobility about me the effect was quite startling. ... It was the sudden summing up of half a century or more of atomic changes in the material of the wall. A grain or two of sand yielded to the pressure of long years, and gravity did the rest.

The fact that this chain of life existed [at volcanic vents on the seafloor] in the black cold of the deep sea and was utterly independent of sunlight—previously thought to be the font of all Earth's life—has startling ramifications. If life could flourish there, nurtured by a complex chemical process based on geothermal heat, then life could exist under similar conditions on planets far removed from the nurturing light of our parent star, the Sun.

[A significant invention] must be startling, unexpected. It must come to a world that is not prepared for it.