Headline Quotes (8 quotes)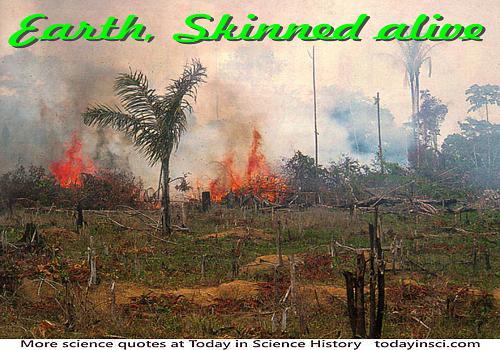 Deforestation of Amazon forest by burning to clear for grazing lands.
Credit: NASA LBA-ECO Project
Earth, Skinned Alive.
[Headline for deforestation book review.]

Enthusiasm for the global-warming scare also ensures that heatwaves make headlines, while contrary symptoms, such as this winter's billion-dollar loss of Californian crops to unusual frost, are relegated to the business pages. The early arrival of migrant birds in spring provides colourful evidence for a recent warming of the northern lands. But did anyone tell you that in east Antarctica the Adélie penguins and Cape petrels are turning up at their spring nesting sites around nine days later than they did 50 years ago? While sea-ice has diminished in the Arctic since 1978, it has grown by 8% in the Southern Ocean.

I once heard a physicist and an editor discussing science news. The editor said, "If you told me that the world was flat, I'd put it in banner headlines." The physicist replied, "I hope you'd also print a denial." I cite that story … about the role of science in our society … that science is front-page news.

It is only necessary to check the comic books and Reader's Digest to see the extent of the influence of applied science on the popular imagination. How much it is used to provide an atmosphere of endless thrill and excitement, quite apart from its accidental menace or utility, one can decide from such typical daily headlines as these:
London, March 10, 1947, Reuters: ROCKET TO MOON SEEN POSSIBLE BUT THOUSANDS TO DIE IN ATTEMPT
Cleveland, January 5, 1948.: LIFE SPAN OF 100, BE YOUNG AT 80, ATOM PREDICTION
Washington, June 11, 1947: SCIENTISTS AWAIT COW'S DEATH TO SOLVE MATHEMATICS PROBLEM
Needham Market, Suffolk, England. (U.P.): VICAR PROPOSES BABIES FOR YEARNING SPINSTERS, TEST-TUBE BABIES WILL PRODUCE ROBOTS
Washington, D.C., January 3, 1948. U.S. FLYER PASSING SONIC BARRIER OPENS NEW VISTAS OF DESTRUCTION ONE OF BRAVEST ACTS IN HISTORY
Those headlines represent "human interest" attempts to gear science to the human nervous system.

It's a common occurrence in a forefront area of science, where the questions are tough and the measurements extremely difficult. You have different groups using different methods and they get different answers. You see it all the time, and the public rarely notices. But when it happens to be in cosmology, it makes headlines.

To prove to an indignant questioner on the spur of the moment that the work I do was useful seemed a thankless task and I gave it up. I turned to him with a smile and finished, "To tell you the truth we don't do it because it is useful but because it's amusing." The answer was thought of and given in a moment: it came from deep down in my soul, and the results were as admirable from my point of view as unexpected. My audience was clearly on my side. Prolonged and hearty applause greeted my confession. My questioner retired shaking his head over my wickedness and the newspapers next day, with obvious approval, came out with headlines "Scientist Does It Because It's Amusing!" And if that is not the best reason why a scientist should do his work, I want to know what is. Would it be any good to ask a mother what practical use her baby is? That, as I say, was the first evening I ever spent in the United States and from that moment I felt at home. I realised that all talk about science purely for its practical and wealth-producing results is as idle in this country as in England. Practical results will follow right enough. No real knowledge is sterile. The most useless investigation may prove to have the most startling practical importance: Wireless telegraphy might not yet have come if Clerk Maxwell had been drawn away from his obviously "useless" equations to do something of more practical importance. Large branches of chemistry would have remained obscure had Willard Gibbs not spent his time at mathematical calculations which only about two men of his generation could understand. With this faith in the ultimate usefulness of all real knowledge a man may proceed to devote himself to a study of first causes without apology, and without hope of immediate return.

With old inflation riding the headlines, I have read till I am bleary-eyed, and I can't get head from tails of the whole thing. ... Now we are living in an age of explanations—and plenty of 'em, too—but no two things that's been done to us have been explained twice the same way, by even the same man. It's and age of in one ear and out the other.

You hear headlines from time to time about the Amazon rainforest disappearing at a greater or lesser rate.... The real story is that over time the rate has stayed just the same. Year after year, decade after decade, we have failed to stop or really even decrease deforestation...