Clerk Quotes (3 quotes)
[About Francis Baily] The history of the astronomy of the nineteenth century will be incomplete without a catalogue of his labours. He was one of the founders of the Astronomical Society, and his attention to its affairs was as accurate and minute as if it had been a firm of which he was the chief clerk, with expectation of being taken into partnership.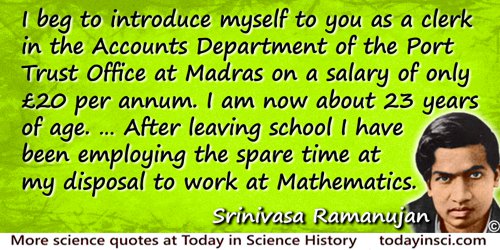 I beg to introduce myself to you as a clerk in the Accounts Department of the Port Trust Office at Madras on a salary of only £20 per annum. I am now about 23 years of age. … After leaving school I have been employing the spare time at my disposal to work at Mathematics.

We have decided to call the entire field of control and communication theory, whether in the machine or in the animal, by the name Cybernetics, which we form from the Greek … for steersman. In choosing this term, we wish to recognize that the first significant paper on feedback mechanisms is an article on governors, which was published by Clerk Maxwell in 1868, and that governor is derived from a Latin corruption … We also wish to refer to the fact that the steering engines of a ship are indeed one of the earliest and best-developed forms of feedback mechanisms.