Salary Quotes (5 quotes)
Air Force Chief of Staff: Doctor, what do you think of our new creation, the … Corporation?
von Kαrmαn: Why, General, I think that corporation has already had an effect on the whole industry.
Air Force Chief of Staff: I'm delighted. What effect is that?
von Kαrmαn: Why, they've upset the salary schedule of the whole industry.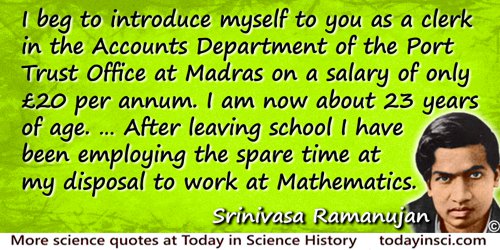 I beg to introduce myself to you as a clerk in the Accounts Department of the Port Trust Office at Madras on a salary of only £20 per annum. I am now about 23 years of age. … After leaving school I have been employing the spare time at my disposal to work at Mathematics.

Nobody supposes that doctors are less virtuous than judges; but a judge whose salary and reputation depended on whether the verdict was for plaintiff or defendant, prosecutor or prisoner, would be as little trusted as a general in the pay of the enemy.

The earliest of my childhood recollections is being taken by my grandfather when he set out in the first warm days of early spring with a grubbing hoe (we called it a mattock) on his shoulder to seek the plants, the barks and roots from which the spring medicine for the household was prepared. If I could but remember all that went into that mysterious decoction and the exact method of preparation, and with judicious advertisement put the product upon the market, I would shortly be possessed of wealth which might be made to serve the useful purpose of increasing the salaries of all pathologists. … But, alas! I remember only that the basic ingredients were dogwood bark and sassafras root, and to these were added q.s. bloodroot, poke and yellow dock. That the medicine benefited my grandfather I have every reason to believe, for he was a hale, strong old man, firm in body and mind until the infection came against which even spring medicine was of no avail. That the medicine did me good I well know, for I can see before me even now the green on the south hillside of the old pasture, the sunlight in the strip of wood where the dogwood grew, the bright blossoms and the delicate pale green of the leaf of the sanguinaria, and the even lighter green of the tender buds of the sassafras in the hedgerow, and it is good to have such pictures deeply engraved in the memory.

We live in a capitalist economy, and I have no particular objection to honorable self-interest. We cannot hope to make the needed, drastic improvement in primary and secondary education without a dramatic restructuring of salaries. In my opinion, you cannot pay a good teacher enough money to recompense the value of talent applied to the education of young children. I teach an hour or two a day to tolerably well-behaved near-adults–and I come home exhausted. By what possible argument are my services worth more in salary than those of a secondary-school teacher with six classes a day, little prestige, less support, massive problems of discipline, and a fundamental role in shaping minds. (In comparison, I only tinker with intellects already largely formed.)