Leaving Quotes (10 quotes)
Les Leucocytes Et L'esprit De Sacrifice. — Il semble, d'après les recherches de De Bruyne (Phagocytose, 1895) et de ceux qui le citent, que les leucocytes des Lamellibranches — probablement lorsqu'ils ont phagocyté, qu'ils se sont chargés de résidus et de déchets, qu'ils ont, en un mot, accompli leur rôle et bien fait leur devoir — sortent du corps de l'animal et vont mourir dans le milieu ambiant. Ils se sacrifient. Après avoir si bien servi l'organisme par leur activité, ils le servent encore par leur mort en faisant place aux cellules nouvelles, plus jeunes.
N'est-ce pas la parfaite image du désintéressement le plus noble, et n'y a-t-il point là un exemple et un modèle? Il faut s'en inspirer: comme eux, nous sommes les unités d'un grand corps social; comme eux, nous pouvons le servir et envisager la mort avec sérénité, en subordonnant notre conscience individuelle à la conscience collective. (30 Jan 1896)
Leukocytes and The Spirit Of Sacrifice. - It seems, according to research by De Bruyne (Phagocytosis, 1885) and those who quote it, that leukocytes of Lamellibranches [bivalves] - likely when they have phagocytized [ingested bacteria], as they become residues and waste, they have, in short, performed their role well and done their duty - leave the body of the animal and will die in the environment. They sacrifice themselves. Having so well served the body by their activities, they still serve in their death by making room for new younger cells.
Isn't this the perfect image of the noblest selflessness, and thereby presents an example and a model? It should be inspiring: like them, we are the units of a great social body, like them, we can serve and contemplate death with equanimity, subordinating our individual consciousness to collective consciousness.

Question: Explain how to determine the time of vibration of a given tuning-fork, and state what apparatus you would require for the purpose.
Answer: For this determination I should require an accurate watch beating seconds, and a sensitive ear. I mount the fork on a suitable stand, and then, as the second hand of my watch passes the figure 60 on the dial, I draw the bow neatly across one of its prongs. I wait. I listen intently. The throbbing air particles are receiving the pulsations; the beating prongs are giving up their original force; and slowly yet surely the sound dies away. Still I can hear it, but faintly and with close attention; and now only by pressing the bones of my head against its prongs. Finally the last trace disappears. I look at the time and leave the room, having determined the time of vibration of the common "pitch" fork. This process deteriorates the fork considerably, hence a different operation must be performed on a fork which is only lent.

A man's first duty, a young man's at any rate, is to be ambitious … the noblest ambition is that of leaving behind one something of permanent value.

Heroes of physics, Argonauts of our time
Who leaped the mountains, who crossed the seas …
You have confirmed in uncomfortable places
What Newton knew without leaving his study.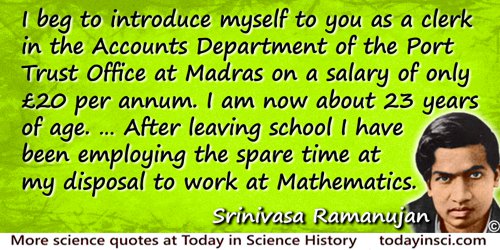 I beg to introduce myself to you as a clerk in the Accounts Department of the Port Trust Office at Madras on a salary of only £20 per annum. I am now about 23 years of age. … After leaving school I have been employing the spare time at my disposal to work at Mathematics.

The last person who left the lab will be the one held responsible for everything that goes wrong.

The winds, the sea, and the moving tides are what they are. If there is wonder and beauty and majesty in them, science will discover these qualities. If they are not there, science cannot create them. If there is poetry in my book about the sea, it is not because I deliberately put it there, but because no one could write truthfully about the sea and leave out the poetry.

Today the world changes so quickly that in growing up we take leave not just of youth but of the world we were young in. … Fear and resentment of what is new is really a lament for the memories of our childhood.

We were very privileged to leave on the Moon a plaque ... saying, 'For all Mankind'. Perhaps in the third millennium a wayward stranger will read the plaque at Tranquility Base. We'll let history mark that this was the age in which that became a fact. I was struck this morning in New York by a proudly waved but uncarefully scribbled sign. It said, 'Through you we touched the Moon.' It was our privilege today to touch America. I suspect perhaps the most warm, genuine feeling that all of us could receive came through the cheers and shouts and, most of all, the smiles of our fellow Americans. We hope and think that those people shared our belief that this is the beginning of a new era—the beginning of an era when man understands the universe around him, and the beginning of the era when man understands himself.

Why it is that animals, instead of developing in a simple and straightforward way, undergo in the course of their growth a series of complicated changes, during which they often acquire organs which have no function, and which, after remaining visible for a short time, disappear without leaving a trace ... To the Darwinian, the explanation of such facts is obvious. The stage when the tadpole breathes by gills is a repetition of the stage when the ancestors of the frog had not advanced in the scale of development beyond a fish.