Spare Time Quotes (3 quotes)
Dilbert: I'm obsessed with inventing a perpetual motion machine. Most scientists think it's impossible, but I have something they don't.
Dogbert: A lot of spare time?
Dilbert: Exactly.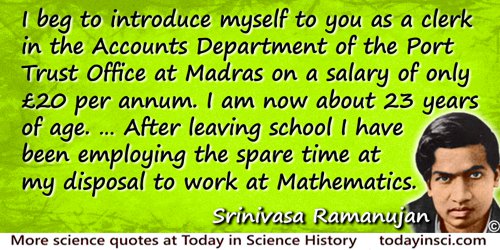 I beg to introduce myself to you as a clerk in the Accounts Department of the Port Trust Office at Madras on a salary of only £20 per annum. I am now about 23 years of age. … After leaving school I have been employing the spare time at my disposal to work at Mathematics.

Theorists write all the popular books on science: Heinz Pagels, Frank Wilczek, Stephen Hawking, Richard Feynman, et al. And why not? They have all that spare time.