Office Quotes (14 quotes)
A complete and generous education fits a man to perform justly, skilfully and magnanimously all the offices of peace and war.

A very sincere and serious freshman student came to my office with a question that had clearly been troubling him deeply. He said to me, 'I am a devout Christian and have never had any reason to doubt evolution, an idea that seems both exciting and well documented. But my roommate, a proselytizing evangelical, has been insisting with enormous vigor that I cannot be both a real Christian and an evolutionist. So tell me, can a person believe both in God and in evolution?' Again, I gulped hard, did my intellectual duty, a nd reassured him that evolution was both true and entirely compatible with Christian belief –a position that I hold sincerely, but still an odd situation for a Jewish agnostic.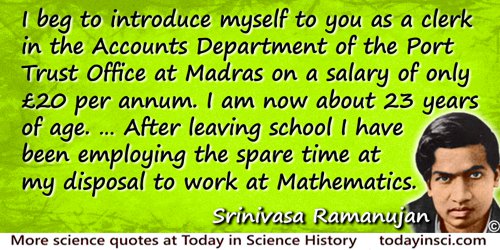 I beg to introduce myself to you as a clerk in the Accounts Department of the Port Trust Office at Madras on a salary of only £20 per annum. I am now about 23 years of age. … After leaving school I have been employing the spare time at my disposal to work at Mathematics.

It is a happy world after all. The air, the earth, the water teem with delighted existence. In a spring noon, or a summer evening, on whichever side I turn my eyes, myriads of happy beings crowd upon my view. "The insect youth are on the wing." Swarms of new-born flies are trying their pinions in the air. Their sportive motions, their wanton mazes, their gratuitous activity testify their joy and the exultation they feel in their lately discovered faculties … The whole winged insect tribe, it is probable, are equally intent upon their proper employments, and under every variety of constitution, gratified, and perhaps equally gratified, by the offices which the author of their nature has assigned to them.

It is for these reasons that I regard the decision last year to shift our efforts in space from low to high gear as among the most important decisions that will be made during my incumbency in the office of the Presidency.

It is inaccurate to say I hate everything. I am strongly in favor of common sense, common honesty, and common decency. This makes me forever ineligible for any public office.

Man is but a perambulating tool-box and workshop or office, fashioned for itself by a piece of very clever slime, as the result of long experience. ... Hence we speak of man's body as his "trunk."

So there he is at last. Man on the moon. The poor magnificent bungler! He can't even get to the office without undergoing the agonies of the damned, but give him a little metal, a few chemicals, some wire and twenty or thirty billion dollars and, vroom! there he is, up on a rock a quarter of a million miles up in the sky.
[Written when the first manned mission to the Moon, Apollo 11, landed (20 Jul 1969).]

The men you see waiting in the lobbies of doctors' offices are, in a vast majority of cases, suffering through poisoning caused by an excess of food.

The need for a quick, satisfactory copying machine that could be used right in the office seemed very apparent to me—there seemed such a crying need for it—such a desirable thing if it could be obtained. So I set out to think of how one could be made.

There cannot be design without a designer; contrivance without a contriver; order without choice; arrangement, without any thing capable of arranging; subserviency and relation to a purpose; means suitable to an end, and executing their office in accomplishing that end, without the end ever having been contemplated, or the means accommodated to it. Arrangement, disposition of parts, subserviency of means to an end, relation of instruments to use, imply the preference of intelligence and mind.

There is a story that once, not long after he came to Berlin, Planck forgot which room had been assigned to him for a lecture and stopped at the entrance office of the university to find out. Please tell me, he asked the elderly man in charge, 'In which room does Professor Planck lecture today?' The old man patted him on the shoulder 'Don't go there, young fellow,' he said 'You are much too young to understand the lectures of our learned Professor Planck'.

Thinking is the activity I love best, and writing to me is simply thinking through my fingers. I can write up to 18 hours a day. Typing 90 words a minute, I've done better than 50 pages a day. Nothing interferes with my concentration. You could put an orgy in my office and I wouldn't look up—well, maybe once.

Well do I remember that dark hot little office in the hospital at Begumpett, with the necessary gleam of light coming in from under the eaves of the veranda. I did not allow the punka to be used because it blew about my dissected mosquitoes, which were partly examined without a cover-glass; and the result was that swarms of flies and of 'eye-flies' - minute little insects which try to get into one's ears and eyelids - tormented me at their pleasure