Inscription Quotes (7 quotes)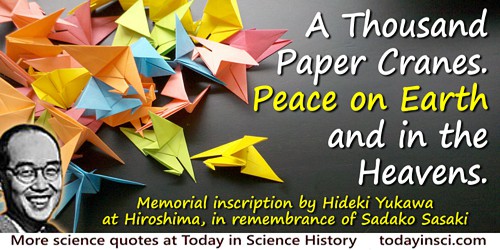 Background by anngelfra CC BY 2.0
(source)
A Thousand Paper Cranes. Peace on Earth and in the Heavens.

After death, life reappears in a different form and with different laws. It is inscribed in the laws of the permanence of life on the surface of the earth and everything that has been a plant and an animal will be destroyed and transformed into a gaseous, volatile and mineral substance.

At the entrance to the observatory Stjerneborg located underground, Tycho Brahe built a Ionic portal. On top of this were three sculptured lions. On both sides were inscriptions and on the backside was a longer inscription in gold letters on a porfyr stone: Consecrated to the all-good, great God and Posterity. Tycho Brahe, Son of Otto, who realized that Astronomy, the oldest and most distinguished of all sciences, had indeed been studied for a long time and to a great extent, but still had not obtained sufficient firmness or had been purified of errors, in order to reform it and raise it to perfection, invented and with incredible labour, industry, and expenditure constructed various exact instruments suitable for all kinds of observations of the celestial bodies, and placed them partly in the neighbouring castle of Uraniborg, which was built for the same purpose, partly in these subterranean rooms for a more constant and useful application, and recommending, hallowing, and consecrating this very rare and costly treasure to you, you glorious Posterity, who will live for ever and ever, he, who has both begun and finished everything on this island, after erecting this monument, beseeches and adjures you that in honour of the eternal God, creator of the wonderful clockwork of the heavens, and for the propagation of the divine science and for the celebrity of the fatherland, you will constantly preserve it and not let it decay with old age or any other injury or be removed to any other place or in any way be molested, if for no other reason, at any rate out of reverence to the creator's eye, which watches over the universe. Greetings to you who read this and act accordingly. Farewell!

Formerly one sought the feeling of the grandeur of man by pointing to his divine origin: this has now become a forbidden way, for at its portal stands the ape, together with other gruesome beasts, grinning knowingly as if to say: no further in this direction! One therefore now tries the opposite direction: the way mankind is going shall serve as proof of his grandeur and kinship with God. Alas this, too, is vain! At the end of this way stands the funeral urn of the last man and gravedigger (with the inscription "nihil humani a me alienum puto"). However high mankind may have evolved—and perhaps at the end it will stand even lower than at the beginning!— it cannot pass over into a higher order, as little as the ant and the earwig can at the end of its "earthly course" rise up to kinship with God and eternal life. The becoming drags the has-been along behind it: why should an exception to this eternal spectacle be made on behalf of some little star or for any little species upon it! Away with such sentimentalities!

Let no-one ignorant of geometry enter.

Nature is a vast tablet, inscribed with signs, each of which has its own significancy, and becomes poetry in the mind when read; and geology is simply the key by which myriads of these signs, hitherto indecipherable, can be unlocked and perused, and thus a new province added to the poetical domain.

They assembled together and dedicated these as the first-fruits of their love to Apollo in his Delphic temple, inscribing there those maxims which are on every tongue- "know thyself" and "Nothing overmuch".