Inscription Quotes (11 quotes)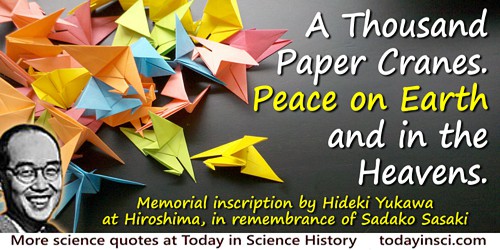 Background by anngelfra CC BY 2.0
(source)
A Thousand Paper Cranes. Peace on Earth and in the Heavens.

After death, life reappears in a different form and with different laws. It is inscribed in the laws of the permanence of life on the surface of the earth and everything that has been a plant and an animal will be destroyed and transformed into a gaseous, volatile and mineral substance.

At the entrance to the observatory Stjerneborg located underground, Tycho Brahe built a Ionic portal. On top of this were three sculptured lions. On both sides were inscriptions and on the backside was a longer inscription in gold letters on a porfyr stone: Consecrated to the all-good, great God and Posterity. Tycho Brahe, Son of Otto, who realized that Astronomy, the oldest and most distinguished of all sciences, had indeed been studied for a long time and to a great extent, but still had not obtained sufficient firmness or had been purified of errors, in order to reform it and raise it to perfection, invented and with incredible labour, industry, and expenditure constructed various exact instruments suitable for all kinds of observations of the celestial bodies, and placed them partly in the neighbouring castle of Uraniborg, which was built for the same purpose, partly in these subterranean rooms for a more constant and useful application, and recommending, hallowing, and consecrating this very rare and costly treasure to you, you glorious Posterity, who will live for ever and ever, he, who has both begun and finished everything on this island, after erecting this monument, beseeches and adjures you that in honour of the eternal God, creator of the wonderful clockwork of the heavens, and for the propagation of the divine science and for the celebrity of the fatherland, you will constantly preserve it and not let it decay with old age or any other injury or be removed to any other place or in any way be molested, if for no other reason, at any rate out of reverence to the creator's eye, which watches over the universe. Greetings to you who read this and act accordingly. Farewell!

Formerly one sought the feeling of the grandeur of man by pointing to his divine origin: this has now become a forbidden way, for at its portal stands the ape, together with other gruesome beasts, grinning knowingly as if to say: no further in this direction! One therefore now tries the opposite direction: the way mankind is going shall serve as proof of his grandeur and kinship with God. Alas this, too, is vain! At the end of this way stands the funeral urn of the last man and gravedigger (with the inscription "nihil humani a me alienum puto"). However high mankind may have evolved—and perhaps at the end it will stand even lower than at the beginning!— it cannot pass over into a higher order, as little as the ant and the earwig can at the end of its "earthly course" rise up to kinship with God and eternal life. The becoming drags the has-been along behind it: why should an exception to this eternal spectacle be made on behalf of some little star or for any little species upon it! Away with such sentimentalities!

I do ... humbly conceive (tho' some possibly may think there is too much notice taken of such a trivial thing as a rotten Shell, yet) that Men do generally rally too much slight and pass over without regard these Records of Antiquity which Nature have left as Monuments and Hieroglyphick Characters of preceding Transactions in the like duration or Transactions of the Body of the Earth, which are infinitely more evident and certain tokens than any thing of Antiquity that can be fetched out of Coins or Medals, or any other way yet known, since the best of those ways may be counterfeited or made by Art and Design, as may also Books, Manuscripts and Inscriptions, as all the Learned are now sufficiently satisfied, has often been actually practised; but those Characters are not to be Counterfeited by all the Craft in the World, nor can they be doubted to be, what they appear, by anyone that will impartially examine the true appearances of them: And tho' it must be granted, that it is very difficult to read them, and to raise a Chronology out of them, and to state the intervalls of the Times wherein such, or such Catastrophies and Mutations have happened; yet 'tis not impossible, but that, by the help of those joined to ' other means and assistances of Information, much may be done even in that part of Information also.

Just as, in civil History, one consults title-deeds, one studies coins, one deciphers ancient inscriptions, in order to determine the epochs of human revolutions and to fix the dates of moral [i.e. human] events; so, in Natural History, one must excavate the archives of the world, recover ancient monuments from the depths of the earth, collect their remains, and assemble in one body of proofs all the evidence of physical changes that enable us to reach back to the different ages of Nature. This, then, is the order of the times indicated by facts and monuments: these are six epochs in the succession of the first ages of Nature; six spaces of duration, the limits of which although indeterminate are not less real; for these epochs are not like those of civil History ... that we can count and measure exactly; nevertheless we can compare them with each other and estimate their relative duration.

Let no-one ignorant of geometry enter.

Medicine for the soul.
[Inscription over the door of the Library at Thebes.]

Men have been talking now for a week at the post office about the age of the great elm, as a matter interesting but impossible to be determined. The very choppers and travelers have stood upon its prostrate trunk and speculated upon its age, as if it were a profound mystery. I stooped and read its years to them (127 at nine and a half feet), but they heard me as the wind that once sighed through its branches. They still surmised that it might be two hundred years old, but they never stooped to read the inscription. Truly they love darkness rather than light. One said it was probably one hundred and fifty, for he had heard somebody say that for fifty years the elm grew, for fifty it stood still, and for fifty it was dying. (Wonder what portion of his career he stood still!) Truly all men are not men of science. They dwell within an integument of prejudice thicker than the bark of the cork-tree, but it is valuable chiefly to stop bottles with. Tied to their buoyant prejudices, they keep themselves afloat when honest swimmers sink.

Nature is a vast tablet, inscribed with signs, each of which has its own significancy, and becomes poetry in the mind when read; and geology is simply the key by which myriads of these signs, hitherto indecipherable, can be unlocked and perused, and thus a new province added to the poetical domain.

They assembled together and dedicated these as the first-fruits of their love to Apollo in his Delphic temple, inscribing there those maxims which are on every tongue- "know thyself" and "Nothing overmuch".