Memorial Quotes (3 quotes)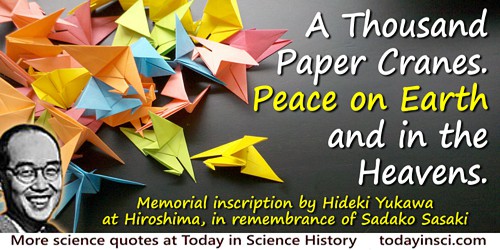 Background by anngelfra CC BY 2.0
(source)
[Pechblende] einer eigenthümlichen, selbstständigen metallischen Substanz bestehe. Es fallen folglich auch deren bisherige Benennungen, als: Ресhblende Eisenpecherz, hinweg, welche nun durch einen neuen ausschliessend bezeichnenden Namen zu ersetzen sind. Ich habe dazu den Namen: Uranerz (Uranium) erwählt; zu einigem Andenken, dass die chemische Ausfindung dieses neuen Metallkörpers in die Epoche der astronomischen. Entdeckung des Planeten Uranus gefallen sei.
[Pitchblende] consists of a peculiar, distinct, metallic substance. Therefore its former denominations, pitch-blende, pitch-iron-ore, &c. are no longer applicable, and must be supplied by another more appropriate name.—I have chosen that of uranite, (Uranium), as a kind of memorial, that the chemical discovery of this new metal happened in the period of the astronomical discovery of the new planet Uranus.

A Thousand Paper Cranes. Peace on Earth and in the Heavens.

The ponderous instrument of synthesis, so effective in his [Newton's] hands, has never since been grasped by one who could use it for such purposes; and we gaze at it with admiring curiosity, as on some gigantic implement of war, which stands idle among the memorials of ancient days, and makes us wonder what manner of man he was who could wield as a weapon what we can hardly lift as a burden.