Crane Quotes (4 quotes)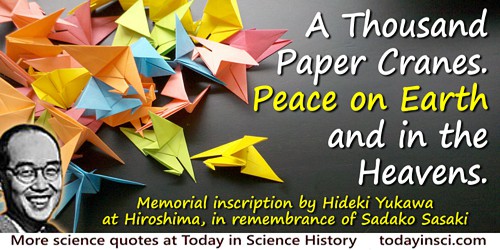 Background by anngelfra CC BY 2.0
(source)
A Thousand Paper Cranes. Peace on Earth and in the Heavens.

On motionless wing they emerge from the lifting mists, sweep a final arc of sky, and settle in clangorous descending spirals to their feeding grounds. A new day has begun on the crane marsh.

Our appreciation of the crane grows with the slow unraveling of earthly history. His tribe, we now know, stems out of the remote Eocene. The other members of the fauna in which he originated are long since entombed within the hills.

To build a road is so much simpler than to think of what the country really needs. A roadless marsh is seemingly as worthless to the alphabetical conservationist as an undrained one was to the empire-builders. Solitude, the one natural resource still undowered of alphabets, is so far recognized as valuable only by ornithologists and cranes. Thus always does history, whether or marsh or market place, end in paradox. The ultimate value in these marshes is wildness, and the crane is wildness incarnate.