Trunk Quotes (11 quotes)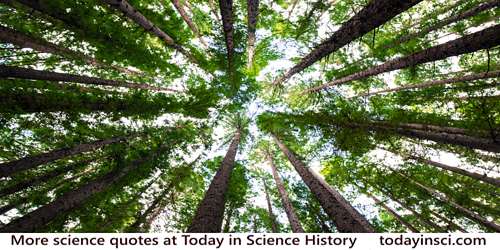 A mile and a half from town, I came to a grove of tall cocoanut trees, with clean, branchless stems reaching straight up sixty or seventy feet and topped with a spray of green foliage sheltering clusters of cocoanuts—not more picturesque than a forest of colossal ragged parasols, with bunches of magnified grapes under them, would be. I once heard a grouty northern invalid say that a cocoanut tree might be poetical, possibly it was; but it looked like a feather-duster struck by lightning. I think that describes it better than a picture—and yet, without any question, there is something fascinating about a cocoanut tree—and graceful, too.

A tree nowhere offers a straight line or a regular curve, but who doubts that root, trunk, boughs, and leaves embody geometry?

Every river appears to consist of a main trunk, fed from a variety of branches, each running in a valley proportional to its size, and all of them together forming a system of vallies, communicating with one another, and having such a nice adjustment of their declivities that none of them join the principal valley on too high or too low a level; a circumstance which would be infinitely improbable if each of these vallies were not the work of the stream that flows in it.

I asked Fermi whether he was not impressed by the agreement between our calculated numbers and his measured numbers. He replied, "How many arbitrary parameters did you use for your calculations?" I thought for a moment about our cut-off procedures and said, "Four." He said, "I remember my friend Johnny von Neumann used to say, with four parameters I can fit an elephant, and with five I can make him wiggle his trunk." With that, the conversation was over.

I ran into the gigantic and gigantically wasteful lumbering of great Sequoias, many of whose trunks were so huge they had to be blown apart before they could be handled. I resented then, and I still resent, the practice of making vine stakes hardly bigger than walking sticks out of these greatest of living things.

It must never be forgotten that education is not a process of packing articles in a trunk. Such a simile is entirely inapplicable. It is, of course, a process completely of its own peculiar genus. Its nearest analogue is the assimilation of food by a living organism: and we all know how necessary to health is palatable food under suitable conditions.

Just as a tree constitutes a mass arranged in a definite manner, in which, in every single part, in the leaves as in the root, in the trunk as in the blossom, cells are discovered to be the ultimate elements, so is it also with the forms of animal life. Every animal presents itself as a sum of vital unities, every one of which manifests all the characteristics of life. The characteristics and unity of life cannot be limited to anyone particular spot in a highly developed organism (for example, to the brain of man), but are to be found only in the definite, constantly recurring structure, which every individual element displays. Hence it follows that the structural composition of a body of considerable size, a so-called individual, always represents a kind of social arrangement of parts, an arrangement of a social kind, in which a number of individual existences are mutually dependent, but in such a way, that every element has its own special action, and, even though it derive its stimulus to activity from other parts, yet alone effects the actual performance of its duties.

Man is but a perambulating tool-box and workshop or office, fashioned for itself by a piece of very clever slime, as the result of long experience. ... Hence we speak of man's body as his "trunk."

Men have been talking now for a week at the post office about the age of the great elm, as a matter interesting but impossible to be determined. The very choppers and travelers have stood upon its prostrate trunk and speculated upon its age, as if it were a profound mystery. I stooped and read its years to them (127 at nine and a half feet), but they heard me as the wind that once sighed through its branches. They still surmised that it might be two hundred years old, but they never stooped to read the inscription. Truly they love darkness rather than light. One said it was probably one hundred and fifty, for he had heard somebody say that for fifty years the elm grew, for fifty it stood still, and for fifty it was dying. (Wonder what portion of his career he stood still!) Truly all men are not men of science. They dwell within an integument of prejudice thicker than the bark of the cork-tree, but it is valuable chiefly to stop bottles with. Tied to their buoyant prejudices, they keep themselves afloat when honest swimmers sink.

The divisions of science are not like different lines that meet in one angle, but rather like the branches of trees that join in one trunk.

This single Stick, which you now behold ingloriously lying in that neglected Corner, I once knew in a flourishing State in a Forest: It was full of Sap, full of Leaves, and full of Boughs: But now, in vain does the busy Art of Man pretend to vie with Nature, by tying that withered Bundle of Twigs to its sapless Trunk: It is at best but the Reverse of what it was; a Tree turned upside down, the Branches on the Earth, and the Root in the Air.