(source)

Jonathan Swift

(30 Nov 1667 - 19 Oct 1745)



Science Quotes by Jonathan Swift
(25 quotes)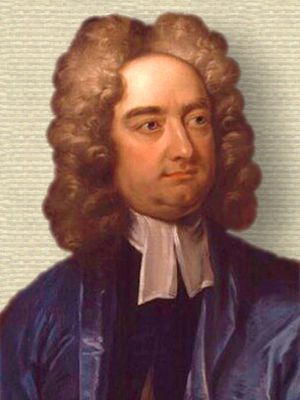 Jonathan Swift (1710)
Artist: Charles Jervas
(source)
That was excellently observ'd, say I, when I read a Passage in an Author, where his Opinion agrees with mine. When we differ, there I pronounce him to be mistaken.

— Jonathan Swift

[Of the Laputans:] They have likewise discovered two lesser stars, or satellites, which revolve about Mars, whereof the innermost is distant from the centre of the primary planet exactly three of his diameters, and the outermost five; the former revolves in the space of ten hours, and the latter in twenty one and a half.

— Jonathan Swift

All Pretences of foretelling by Astrology, are Deceits; for this manifest Reason, because the Wise and Learned, who can only judge whether there be any Truth in this Science, do all unanimously agree to laugh at and despise it; and none but the poor ignorant Vulgar give it any Credit.

— Jonathan Swift

He had been eight years upon a project for extracting sunbeams out of cucumbers, which were to be put into vials hermetically sealed, and let out to warm the air in raw, inclement summers.

— Jonathan Swift

If the world had but a dozen Arbuthnots I would burn my [Gulliver's] Travels.
Letter to Pope, dated 29 Sep 1725, when Arbuthnot was seriously ill

— Jonathan Swift

If they would, for Example, praise the Beauty of a Woman, or any other Animal, they describe it by Rhombs, Circles, Parallelograms, Ellipses, and other geometrical terms …

— Jonathan Swift

In the school of political projectors, I was but ill entertained, the professors appearing, in my judgment, wholly out of their senses; which is a scene that never fails to make me melancholy. These unhappy people were proposing schemes for persuading monarchs to choose favourites upon the score of their wisdom, capacity, and virtue; of teaching ministers to consult the public good; of rewarding merit, great abilities, and eminent services; of instructing princes to know their true interest, by placing it on the same foundation with that of their people; of choosing for employment persons qualified to exercise them; with many other wild impossible chimeras, that never entered before into the heart of man to conceive, and confirmed in me the old observation, that there is nothing so extravagant and irrational which some philosophers have not maintained for truth.

— Jonathan Swift

It is with theories as with wells: you may see to the bottom of the deepest if there be any water there, while another shall pass for wondrous profound when 'tis merely shallow, dark, and empty.

— Jonathan Swift

Laws are like Cobwebs, which may catch small Flies, but let Wasps and Hornets break through.

— Jonathan Swift

Of beasts, it is confess'd, the ape
Comes nearest us in human shape;
Like man he imitates each fashion,
And malice is his ruling passion.

— Jonathan Swift

Of beasts, it is confess'd, the ape
Comes nearest us in human shape;
Like man he imitates each fashion,
And malice is his ruling passion.

— Jonathan Swift

Old Men and Comets have been reverenced for the same Reason: their Long Beards, and Pretences to foretel Events.

— Jonathan Swift

Philosophers say, that Man is a Microcosm, or little World, resembling in Miniature every Part of the Great: And, in my Opinion, the Body Natural may be compared to the Body Politic: and if this be so, how can the Epicureans Opinion be true, that the Universe was formed by a fortuitous Concourse of Atoms; which I will no more believe, than that the accidental Jumbling of the Letters of the Alphabet, could fall by Chance into a most ingenious and learned Treatise of Philosophy. Risum teneatis Amici, Hor.

— Jonathan Swift

That the Universe was formed by a fortuitous Concourse of Atoms, I will no more believe than that the accidental Jumbling of the Letters of the Alphabet would fall by Chance into a most ingenious and learned Treatise of Philosophy, Risum teneatis Amici, Hor.

— Jonathan Swift

The first drizzling shower is born...
[Then] the flood comes down,
Threatening with deluge this devoted town. ...
Now from all parts the swelling kennels flow,
And bear their trophies with them as they go:
Filth of all hues and odors seem to tell
What street they sailed from, by their sight and smell.
They, as each torrent drives with rapid force,
From Smithfield or St. Pulchre's shape their course,
And in huge confluence joined at Snow Hill ridge,
Fall from the conduit prone to Holborn Bridge.
Sweepings from butchers' stalls, dung, guts, and blood.
Drowned puppies, stinking sprats, all drenched in mud,
Dead cats, and turnip tops, come tumbling down the flood.

— Jonathan Swift

The greatest Inventions were produced in Times of Ignorance; as the Use of the Compass, Gunpowder, and Printing; and by the dullest Nation, as the Germans.

— Jonathan Swift

The Mind of Man is, at first, … like a Tabula rasa; or like Wax, which while it is soft, is capable of any Impression, until Time hath hardened it.

— Jonathan Swift

The sciences are found, like Hercules's oxen, by tracing them backward; and old sciences are unravelled like old stockings, by beginning at the foot.

— Jonathan Swift

The Vermin only teaze and pinch
Their foes superior by an Inch.
So, Naturalists observe, a Flea
Hath smaller Fleas that on him prey,
And these have smaller Fleas to bite 'em.
And so proceed ad infinitum.

— Jonathan Swift

This Academy [at Lagado] is not an entire single Building, but a Continuation of several Houses on both Sides of a Street; which growing waste, was purchased and applied to that Use.
I was received very kindly by the Warden, and went for many Days to the Academy. Every Room hath in it ' one or more Projectors; and I believe I could not be in fewer than five Hundred Rooms.
The first Man I saw was of a meagre Aspect, with sooty Hands and Face, his Hair and Beard long, ragged and singed in several Places. His Clothes, Shirt, and Skin were all of the same Colour. He had been Eight Years upon a Project for extracting Sun-Beams out of Cucumbers, which were to be put into Vials hermetically sealed, and let out to warm the Air in raw inclement Summers. He told me, he did not doubt in Eight Years more, that he should be able to supply the Governor's Gardens with Sunshine at a reasonable Rate; but he complained that his Stock was low, and interested me to give him something as an Encouragement to Ingenuity, especially since this had been a very dear Season for Cucumbers. I made him a small Present, for my Lord had furnished me with Money on purpose, because he knew their Practice of begging from all who go to see them.
I saw another at work to calcine Ice into Gunpowder; who likewise shewed me a Treatise he had written concerning the Malleability of Fire, which he intended to publish.
There was a most ingenious Architect who had contrived a new Method for building Houses, by beginning at the Roof, and working downwards to the Foundation; which he justified to me by the life Practice of those two prudent Insects the Bee and the Spider.
In another Apartment I was highly pleased with a Projector, who had found a device of plowing the Ground with Hogs, to save the Charges of Plows, Cattle, and Labour. The Method is this: In an Acre of Ground you bury at six Inches Distance, and eight deep, a quantity of Acorns, Dates, Chestnuts, and other Masts or Vegetables whereof these Animals are fondest; then you drive six Hundred or more of them into the Field, where in a few Days they will root up the whole Ground in search of their Food, and make it fit for sowing, at the same time manuring it with their Dung. It is true, upon Experiment they found the Charge and Trouble very great, and they had little or no Crop. However, it is not doubted that this Invention may be capable of great Improvement.
I had hitherto seen only one Side of the Academy, the other being appropriated to the Advancers of speculative Learning.
Some were condensing Air into a dry tangible Substance, by extracting the Nitre, and letting the acqueous or fluid Particles percolate: Others softening Marble for Pillows and Pin-cushions. Another was, by a certain Composition of Gums, Minerals, and Vegetables outwardly applied, to prevent the Growth of Wool upon two young lambs; and he hoped in a reasonable Time to propagate the Breed of naked Sheep all over the Kingdom.

— Jonathan Swift

This single Stick, which you now behold ingloriously lying in that neglected Corner, I once knew in a flourishing State in a Forest: It was full of Sap, full of Leaves, and full of Boughs: But now, in vain does the busy Art of Man pretend to vie with Nature, by tying that withered Bundle of Twigs to its sapless Trunk: It is at best but the Reverse of what it was; a Tree turned upside down, the Branches on the Earth, and the Root in the Air.

— Jonathan Swift

What I chiefly admired, and thought altogether unaccountable, was the strong disposition I observed in them [the mathematicians of Laputa] towards news and politics; perpetually inquiring into public affairs; giving their judgments in matters of state; and passionately disputing every inch of party opinion. I have indeed observed the same disposition among most of the mathematicians I have known in Europe, although I could never discover the least analogy between the two sciences.

— Jonathan Swift

What vexes me most is, that my female friends, who could bear me very well a dozen years ago, have now forsaken me, although I am not so old in proportion to them as I formerly was: which I can prove by arithmetic, for then I was double their age, which now I am not.

— Jonathan Swift

When a true genius appears in the world you may know him by this sign: that all the dunces are in confederacy against him.

— Jonathan Swift

Whoever could make two ears of corn or two blades of grass to grow upon a spot of ground where only one grew before, would deserve better of mankind, and do more essential service to his country, than the whole race of politicians put together.

— Jonathan Swift

---
Quotes by others about Jonathan Swift (2)
I am almost thanking God that I was never educated, for it seems to me that 999 of those who are so, expensively and laboriously, have lost all before they arrive at my age—& remain like Swift's Stulbruggs—cut and dry for life, making no use of their earlier-gained treasures:—whereas, I seem to be on the threshold of knowledge.

Neither the absolute nor the relative size of the brain can be used to measure the degree of mental ability in animal or in man. So far as man is concerned, the weights of the brains or the volumes of the cranial cavities of a hundred celebrities of all branches of knowledge all over the world have been listed. … At the bottom of those lists are Gall, the famous phrenologist, Anatole France, the French novelist, and Gambetta, the French statesman, each with about 1,100 cc brain mass. The lists are topped by Dean Jonathan Swift, the English writer, Lord Byron, the English poet, and Turgenev, the Russian novelist, all with about 2,000 cc … Now our mental test! Had Turgenev really twice the mental ability of Anatole France?