Profuse Quotes (3 quotes)
It is difficult to conceive a grander mass of vegetation:—the straight shafts of the timber-trees shooting aloft, some naked and clean, with grey, pale, or brown bark; others literally clothed for yards with a continuous garment of epiphytes, one mass of blossoms, especially the white Orchids Caelogynes, which bloom in a profuse manner, whitening their trunks like snow. More bulky trunks were masses of interlacing climbers, Araliaceae, Leguminosae, Vines, and Menispermeae, Hydrangea, and Peppers, enclosing a hollow, once filled by the now strangled supporting tree, which has long ago decayed away. From the sides and summit of these, supple branches hung forth, either leafy or naked; the latter resembling cables flung from one tree to another, swinging in the breeze, their rocking motion increased by the weight of great bunches of ferns or Orchids, which were perched aloft in the loops. Perpetual moisture nourishes this dripping forest: and pendulous mosses and lichens are met with in profusion.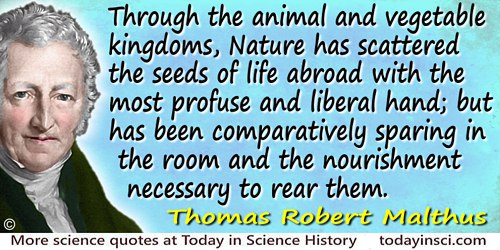 Through the animal and vegetable kingdoms, Nature has scattered the seeds of life abroad with the most profuse and liberal hand; but has been comparatively sparing in the room and the nourishment necessary to rear them. The germs of existence contained in this spot of earth, if they could freely develop themselves, would fill millions of worlds in the course of a few thousand years. Necessity, that imperious all-pervading law of nature, restrains them within the prescribed bounds. The race of plants and the race of animals shrink under this great restrictive law; and man cannot by any efforts of reason escape from it.

Trees perspire profusely, condense largely, and check evaporation so much that woods are always moist: no wonder, therefore, that they contribute much to pools and streams.