Shrink Quotes (10 quotes)
Alas, your dear friend and servant is totally blind. Henceforth this heaven, this universe, which by wonderful observations I had enlarged by a hundred and a thousand times beyond the conception of former ages, is shrunk for me into the narrow space which I myself fill in it. So it pleases God; it shall therefore please me also.

As belief shrinks from this world, it is more necessary than ever that someone believe. Wild-eyed men in caves. Nuns in black. Monks who do not speak. We are left to believe... Hell is when no one believes.

Everyone is aware of the difficult and menacing situation in which human society–shrunk into one community with a common fate–now finds itself, but only a few act accordingly. Most people go on living their every-day life: half frightened, half indifferent, they behold the ghostly tragicomedy which is being performed on the international stage before the eyes and ears of the world. But on that stage, on which the actors under the floodlights play their ordained parts, our fate of tomorrow, life or death of the nations, is being decided.

It is error only, and not truth, that shrinks from inquiry.

Science quickens and cultivates directly the faculty of observation, which in very many persons lies almost dormant through life, the power of accurate and rapid generalizations, and the mental habit of method and arrangement; it accustoms young persons to trace the sequence of cause and effect; it familiarizes then with a kind of reasoning which interests them, and which they can promptly comprehend; and it is perhaps the best corrective for that indolence which is the vice of half-awakened minds, and which shrinks from any exertion that is not, like an effort of memory, merely mechanical.

The land! That is where our roots are. There is the basis of our physical life. The farther we get away from the land, the greater our insecurity. From the land comes everything that supports life, everything we use for the service of physical life. The land has not collapsed or shrunk in either extent or productivity. It is there waiting to honor all the labor we are willing to invest in it, and able to tide us across any dislocation of economic conditions.

The losses of the natural world are our loss, their silence silences something within the human mind. Human language is lit with animal life: we play cats-cradle or have hare-brained ideas; we speak of badgering, or outfoxing someone; to squirrel something away and to ferret it out. … When our experience of the wild world shrinks, we no longer fathom the depths of our own words; language loses its lustre and vividness.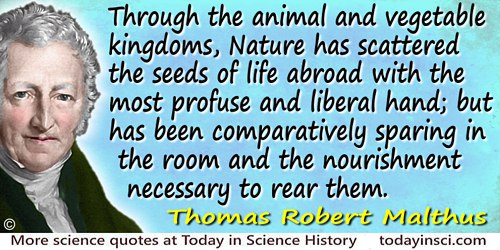 Through the animal and vegetable kingdoms, Nature has scattered the seeds of life abroad with the most profuse and liberal hand; but has been comparatively sparing in the room and the nourishment necessary to rear them. The germs of existence contained in this spot of earth, if they could freely develop themselves, would fill millions of worlds in the course of a few thousand years. Necessity, that imperious all-pervading law of nature, restrains them within the prescribed bounds. The race of plants and the race of animals shrink under this great restrictive law; and man cannot by any efforts of reason escape from it.

To vary the compression of the muscle therefore, and so to swell and shrink it, there needs nothing but to change the consistency of the included ether… . Thus may therefore the soul, by determining this ethereal animal spirit or wind into this or that nerve, perhaps with as much ease as air is moved in open spaces, cause all the motions we see in animals.

What is the shape of space? Is it flat, or is it bent? Is it nicely laid out, or is it warped and shrunken? Is it finite, or is it infinite? Which of the following does space resemble more: (a) a sheet of paper, (b) an endless desert, (c) a soap bubble, (d) a doughnut, (e) an Escher drawing, (f) an ice cream cone, (g) the branches of a tree, or (h) a human body?