Specimen Quotes (14 quotes)
A quotation without a reference is like a geological specimen of unknown locality.

Bacon himself was very ignorant of all that had been done by mathematics; and, strange to say, he especially objected to astronomy being handed over to the mathematicians. Leverrier and Adams, calculating an unknown planet into a visible existence by enormous heaps of algebra, furnish the last comment of note on this specimen of the goodness of Bacon's view… . Mathematics was beginning to be the great instrument of exact inquiry: Bacon threw the science aside, from ignorance, just at the time when his enormous sagacity, applied to knowledge, would have made him see the part it was to play. If Newton had taken Bacon for his master, not he, but somebody else, would have been Newton.

I can remember … starting to gather all sorts of things like rocks and beetles when I was about nine years old. There was no parental encouragement—nor discouragement either—nor any outside influence that I can remember in these early stages. By about the age of twelve, I had settled pretty definitely on butterflies, largely I think because the rocks around my home were limited to limestone, while the butterflies were varied, exciting, and fairly easy to preserve with household moth-balls. … I was fourteen, I remember, when … I decided to be scientific, caught in some net of emulation, and resolutely threw away all of my "childish" specimens, mounted haphazard on "common pins" and without "proper labels." The purge cost me a great inward struggle, still one of my most vivid memories, and must have been forced by a conflict between a love of my specimens and a love for orderliness, for having everything just exactly right according to what happened to be my current standards.

It is better to have a few forms well known than to teach a little about many hundred species. Better a dozen specimens thoroughly studied as the result of the first year's work, than to have two thousand dollars' worth of shells and corals bought from a curiosity-shop. The dozen animals would be your own.

It wasn't the finches that put the idea [of natural selection] in Darwin's head, it was the tortoises. The reason he didn't use the tortoises [in writing On the Origin of Species] was that, when he got back, he found he didn't have localities on the tortoise specimens. Here the great god, the greatest naturalist we have records of, made a mistake. His fieldwork wasn't absolutely perfect.

My father's collection of fossils was practically unnamed, but the appearance of Phillips' book [Geology of the Yorkshire Coast], in which most of our specimens were figured, enabled us to remedy this defect. Every evening was devoted by us to accomplishing the work. This was my first introduction to true scientific study. ... Phillips' accurate volume initiated an entirely new order of things. Many a time did I mourn over the publication of this book, and the consequences immediately resulting from it. Instead of indulging in the games and idleness to which most lads are prone, my evenings throughout a long winter were devoted to the detested labour of naming these miserable stones. Such is the short-sightedness of boyhood. Pursuing this uncongenial work gave me in my thirteenth year a thorough practical familiarity with the palaeontological treasures of Eastern Yorkshire. This early acquisition happily moulded the entire course of my future life.

Of what use are the great number of petrifactions, of different species, shape and form which are dug up by naturalists? Perhaps the collection of such specimens is sheer vanity and inquisitiveness. I do not presume to say; but we find in our mountains the rarest animals, shells, mussels, and corals embalmed in stone, as it were, living specimens of which are now being sought in vain throughout Europe. These stones alone whisper in the midst of general silence.

On entering his [John James Audubon] room, I was astonished and delighted to find that it was turned into a museum. The walls were festooned with all kinds of birds' eggs, carefully blown out and strung on a thread. The chimney-piece was covered with stuffed squirrels, raccoons, and opossums; and the shelves around were likewise crowded with specimens, among which were fishes, frogs, snakes, lizards, and other reptiles. Besides these stuffed varieties, many paintings were arrayed on the walls, chiefly of birds.

Scientists and Drapers. Why should the botanist, geologist or other-ist give himself such airs over the draper's assistant? Is it because he names his plants or specimens with Latin names and divides them into genera and species, whereas the draper does not formulate his classifications, or at any rate only uses his mother tongue when he does? Yet how like the sub-divisions of textile life are to those of the animal and vegetable kingdoms! A few great families—cotton, linen, hempen, woollen, silk, mohair, alpaca—into what an infinite variety of genera and species do not these great families subdivide themselves? And does it take less labour, with less intelligence, to master all these and to acquire familiarity with their various habits, habitats and prices than it does to master the details of any other great branch of science? I do not know. But when I think of Shoolbred's on the one hand and, say, the ornithological collections of the British Museum upon the other, I feel as though it would take me less trouble to master the second than the first.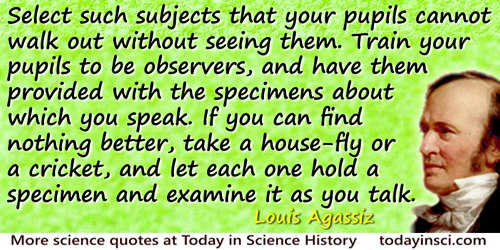 Select such subjects that your pupils cannot walk out without seeing them. Train your pupils to be observers, and have them provided with the specimens about which you speak. If you can find nothing better, take a house-fly or a cricket, and let each one hold a specimen and examine it as you talk.

Since an organism is inseparable from its environment, any person who attempts to understand an organism's distribution must keep constantly in mind that the item being studied is neither a stuffed skin, a pickled specimen, nor a dot on a map. It is not even the live organism held in the hand, caged in a laboratory, or seen in the field. It is a complex interaction between a self-sustaining physicochemical system and the environment. An obvious corollary is that to know the organism it is necessary to know its environment.

There is no part of the country where in the summer you cannot get a sufficient supply of the best specimens. Teach your children to bring them in for themselves. Take your text from the brooks, not from the booksellers.

To Monsieur Eiffel the Engineer, the brave builder of so gigantic and original a specimen of modern Engineering from one who has the greatest respect and admiration for all Engineers including the Great Engineer the Bon Dieu.

[T]here is little chance that aliens from two societies anywhere in the Galaxy will be culturally close enough to really 'get along.' This is something to ponder as you watch the famous cantina scene in Star Wars. ... Does this make sense, given the overwhelmingly likely situation that galactic civilizations differ in their level of evolutionary development by thousands or millions of years? Would you share drinks with a trilobite, an ourang-outang, or a saber-toothed tiger? Or would you just arrange to have a few specimens stuffed and carted off to the local museum?