Plane Quotes (11 quotes)
'Tis a short sight to limit our faith in laws to those of gravity, of chemistry, of botany, and so forth. Those laws do not stop where our eyes lose them, but push the same geometry and chemistry up into the invisible plane of social and rational life, so that, look where we will, in a boy's game, or in the strifes of races, a perfect reaction, a perpetual judgment keeps watch and ward.

As soon … as it was observed that the stars retained their relative places, that the times of their rising and setting varied with the seasons, that sun, moon, and planets moved among them in a plane, … then a new order of things began.… Science had begun, and the first triumph of it was the power of foretelling the future; eclipses were perceived to recur in cycles of nineteen years, and philosophers were able to say when an eclipse was to be looked for. The periods of the planets were determined. Theories were invented to account for their eccentricities; and, false as those theories might be, the position of the planets could be calculated with moderate certainty by them.

Crystals grew inside rock like arithmetic flowers. They lengthened and spread, added plane to plane in an awed and perfect obedience to an absolute geometry that even stones—maybe only the stones—understood.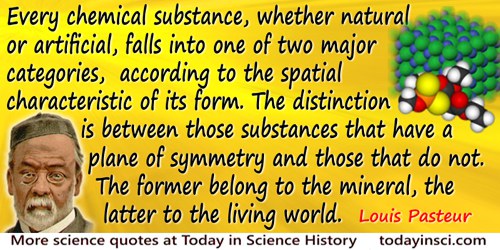 Every chemical substance, whether natural or artificial, falls into one of two major categories, according to the spatial characteristic of its form. The distinction is between those substances that have a plane of symmetry and those that do not. The former belong to the mineral, the latter to the living world.

If it were possible for a metaphysician to be a golfer, he might perhaps occasionally notice that his ball, instead of moving forward in a vertical plane (like the generality of projectiles, such as brickbats and cricket balls), skewed away gradually to the right. If he did notice it, his methods would naturally lead him to content himself with his caddies's remark-'ye heeled that yin,' or 'Ye jist sliced it.' ... But a scientific man is not to be put off with such flimsy verbiage as that. He must know more. What is 'Heeling', what is 'slicing', and why would either operation (if it could be thoroughly carried out) send a ball as if to cover point, thence to long slip, and finally behind back-stop? These, as Falstaff said, are 'questions to be asked.'

It is probable that all organisms now alive are descended from one ancestor, for the following reason. Most of our structural molecules are asymmetrical, as shown by the fact that they rotate the plane of polarized light, and often form asymmetrical crystals. But of the two possible types of any such molecule, related to one another like a right and left boot, only one is found throughout living nature. The apparent exceptions to this rule are all small molecules which are not used in the building of the large structures which display the phenomena of life.

Psychology, as the behaviorist views it, is a purely objective, experimental branch of natural science which needs introspection as little as do the sciences of chemistry and physics. It is granted that the behavior of animals can be investigated without appeal to consciousness. Heretofore the viewpoint has been that such data have value only in so far as they can be interpreted by analogy in terms of consciousness. The position is taken here that the behavior of man and the behavior of animals must be considered in the same plane.

The novel feature of the structure is the manner in which the two chains are held together by the purine and pyrimidine bases. The planes of the bases are perpendicular to the fibre axis. They are joined together in pairs, a single base from one chain being hydrogen-bonded to a single base from the other chain, so that the two lie side by side with identical z-co-ordinates. One of the pair must be 11 purine and the other a pyrimidine for bonding to occur. The hydrogen bonds are made as follows: purine position I to pyrimidine position I; purine position 6 to pyrimidine position 6.
[Co-author with Francis Crick]

There is another approach to the extraterrestrial hypothesis of UFO origins. This assessment depends on a large number of factors about which we know little, and a few about which we know literally nothing. I want to make some crude numerical estimate of the probability that we are frequently visited by extraterrestrial beings.
Now, there is a range of hypotheses that can be examined in such a way. Let me give a simple example: Consider the Santa Claus hypothesis, which maintains that, in a period of eight hours or so on December 24-25 of each year, an outsized elf visits one hundred million homes in the United States. This is an interesting and widely discussed hypothesis. Some strong emotions ride on it, and it is argued that at least it does no harm.
We can do some calculations. Suppose that the elf in question spends one second per house. This isn't quite the usual picture—"Ho, Ho, Ho," and so on—but imagine that he is terribly efficient and very speedy; that would explain why nobody ever sees him very much-only one second per house, after all. With a hundred million houses he has to spend three years just filling stockings. I have assumed he spends no time at all in going from house to house. Even with relativistic reindeer, the time spent in a hundred million houses is three years and not eight hours. This is an example of hypothesis-testing independent of reindeer propulsion mechanisms or debates on the origins of elves. We examine the hypothesis itself, making very straightforward assumptions, and derive a result inconsistent with the hypothesis by many orders of magnitude. We would then suggest that the hypothesis is untenable.
We can make a similar examination, but with greater uncertainty, of the extraterrestrial hypothesis that holds that a wide range of UFOs viewed on the planet Earth are space vehicles from planets of other stars.

We must remember that all our [models of flying machine] inventions are but developments of crude ideas; that a commercially successful result in a practically unexplored field cannot possibly be got without an enormous amount of unremunerative work. It is the piled-up and recorded experience of many busy brains that has produced the luxurious travelling conveniences of to-day, which in no way astonish us, and there is no good reason for supposing that we shall always be content to keep on the agitated surface of the sea and air, when it is possible to travel in a superior plane, unimpeded by frictional disturbances.

Whoever looks at the insect world, at flies, aphides, gnats and innumerable parasites, and even at the infant mammals, must have remarked the extreme content they take in suction, which constitutes the main business of their life. If we go into a library or newsroom, we see the same function on a higher plane, performed with like ardor, with equal impatience of interruption, indicating the sweetness of the act. In the highest civilization the book is still the highest delight.