Cricket Quotes (8 quotes)
Counting stars by candlelight all are dim but one is bright; the spiral light of Venus rising first and shining best, from the northwest corner of a brand-new crescent moon crickets and cicadas sing a rare and different tune.

If it were possible for a metaphysician to be a golfer, he might perhaps occasionally notice that his ball, instead of moving forward in a vertical plane (like the generality of projectiles, such as brickbats and cricket balls), skewed away gradually to the right. If he did notice it, his methods would naturally lead him to content himself with his caddies's remark-"ye heeled that yin," or "Ye jist sliced it." … But a scientific man is not to be put off with such flimsy verbiage as that. He must know more. What is "Heeling", what is "slicing", and why would either operation (if it could be thoroughly carried out) send a ball as if to cover point, thence to long slip, and finally behind back-stop? These, as Falstaff said, are "questions to be asked."

Many animals even now spring out of the soil,
Coalescing from the rains and the heat of the sun.
Small wonder, then, if more and bigger creatures,
Full-formed, arose from the new young earth and sky.
The breed, for instance, of the dappled birds
Shucked off their eggshells in the springtime, as
Crickets in summer will slip their slight cocoons
All by themselves, and search for food and life.
Earth gave you, then, the first of mortal kinds,
For all the fields were soaked with warmth and moisture.

One day at Fenner's (the university cricket ground at Cambridge), just before the last war, G. H. Hardy and I were talking about Einstein. Hardy had met him several times, and I had recently returned from visiting him. Hardy was saying that in his lifetime there had only been two men in the world, in all the fields of human achievement, science, literature, politics, anything you like, who qualified for the Bradman class. For those not familiar with cricket, or with Hardy's personal idiom, I ought to mention that "the Bradman class" denoted the highest kind of excellence: it would include Shakespeare, Tolstoi, Newton, Archimedes, and maybe a dozen others. Well, said Hardy, there had only been two additions in his lifetime. One was Lenin and the other Einstein.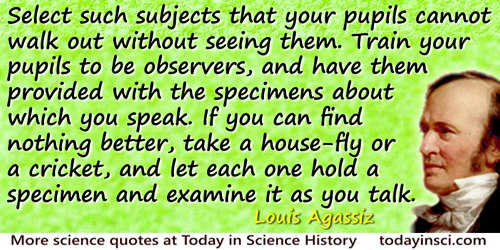 Select such subjects that your pupils cannot walk out without seeing them. Train your pupils to be observers, and have them provided with the specimens about which you speak. If you can find nothing better, take a house-fly or a cricket, and let each one hold a specimen and examine it as you talk.

The Poetry of earth is never dead:
When all the birds are faint with the hot sun,
And hide in cooling trees, a voice will run
From hedge to hedge about the new-mown mead;
That is the Grasshopper's—he takes the lead
In summer luxury,—he has never done
With his delights; for when tired out with fun
He rests at ease beneath some pleasant weed.
The poetry of earth is ceasing never:
On a lone winter evening, when the frost
Has wrought a silence, from the stove there shrills
The Cricket's song, in warmth increasing ever,
And seems to one in drowsiness half lost,
The Grasshopper's among some grassy hills.

To expect a personality to survive the disintegration of the brain is like expecting a cricket club to survive when all of its members are dead.

Village cricket spread fast through the land. In those days, before it became scientific, cricket was the best game in the world to watch ... each ball a potential crisis.