Spatial Quotes (9 quotes)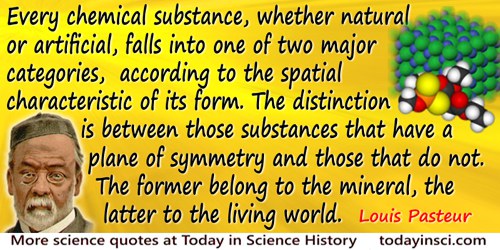 Every chemical substance, whether natural or artificial, falls into one of two major categories, according to the spatial characteristic of its form. The distinction is between those substances that have a plane of symmetry and those that do not. The former belong to the mineral, the latter to the living world.

I am born into an environment–I know not whence I came nor whither I go nor who I am. This is my situation as yours, every single one of you. The fact that everyone always was in this same situation, and always will be, tells me nothing. Our burning question as to the whence and whither–all we can ourselves observe about it is the present environment. That is why we are eager to find out about it as much as we can. That is science, learning, knowledge; it is the true source of every spiritual endeavour of man. We try to find out as much as we can about the spatial and temporal surroundings of the place in which we find ourselves put by birth.

I am not insensible to natural beauty, but my emotional joys center on the improbable yet sometimes wondrous works of that tiny and accidental evolutionary twig called Homo sapiens. And I find, among these works, nothing more noble than the history of our struggle to understand nature—a majestic entity of such vast spatial and temporal scope that she cannot care much for a little mammalian afterthought with a curious evolutionary invention, even if that invention has, for the first time in so me four billion years of life on earth, produced recursion as a creature reflects back upon its own production and evolution. Thus, I love nature primarily for the puzzles and intellectual delights that she offers to the first organ capable of such curious contemplation.

If a mathematician of the past, an Archimedes or even a Descartes, could view the field of geometry in its present condition, the first feature to impress him would be its lack of concreteness. There are whole classes of geometric theories which proceed not only without models and diagrams, but without the slightest (apparent) use of spatial intuition. In the main this is due, to the power of the analytic instruments of investigations as compared with the purely geometric.

Many important spatial patterns of Nature are either irregular or fragmented to such an extreme degree that … classical geometry … is hardly of any help in describing their form. … I hope to show that it is possible in many cases to remedy this absence of geometric representation by using a family of shapes I propose to call fractals—or fractal sets.

Mathematics—in a strict sense—is the abstract science which investigates deductively the conclusions implicit in the elementary conceptions of spatial and numerical relations.

To characterize the import of pure geometry, we might use the standard form of a movie-disclaimer: No portrayal of the characteristics of geometrical figures or of the spatial properties of relationships of actual bodies is intended, and any similarities between the primitive concepts and their customary geometrical connotations are purely coincidental.

To the extent that remaining old-growth Douglas fir ecosystems possess unique structural and functional characteristics distinct from surrounding managed forests, the analogy between forest habitat islands and oceanic islands applies. Forest planning decision variables such as total acreage to be maintained, patch size frequency distribution, spatial distribution of patches, specific locations, and protective measures all need to be addressed.

We could present spatially an atomic fact which contradicted the laws of physics, but not one which contradicted the laws of geometry.