Category Quotes (12 quotes)
A myth is, of course, not a fairy story. It is the presentation of facts belonging to one category in the idioms appropriate to another. To explode a myth is accordingly not to deny the facts but to re-allocate them.

But, as we consider the totality of similarly broad and fundamental aspects of life, we cannot defend division by two as a natural principle of objective order. Indeed, the 'stuff' of the universe often strikes our senses as complex and shaded continua, admittedly with faster and slower moments, and bigger and smaller steps, along the way. Nature does not dictate dualities, trinities, quarterings, or any 'objective' basis for human taxonomies; most of our chosen schemes, and our designated numbers of categories, record human choices from a cornucopia of possibilities offered by natural variation from place to place, and permitted by the flexibility of our mental capacities. How many seasons (if we wish to divide by seasons at all) does a year contain? How many stages shall we recognize in a human life?

Concerned to reconstruct past ideas, historians must approach the generation that held them as the anthropologist approaches an alien culture. They must, that is, be prepared at the start to find that natives speak a different language and map experience into different categories from those they themselves bring from home. And they must take as their object the discovery of those categories and the assimilation of the corresponding language.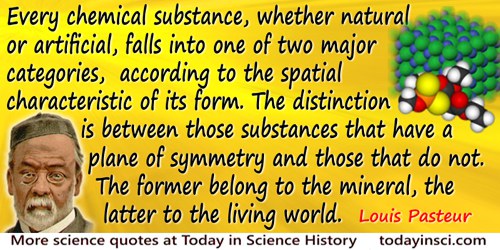 Every chemical substance, whether natural or artificial, falls into one of two major categories, according to the spatial characteristic of its form. The distinction is between those substances that have a plane of symmetry and those that do not. The former belong to the mineral, the latter to the living world.

I submit that the traditional definition of psychiatry, which is still in vogue, places it alongside such things as alchemy and astrology, and commits it to the category of pseudo-science.

It [science] must be amoral by its very nature: the minute it begins separating facts into the two categories of good ones and bad ones it ceases to be science and becomes a mere nuisance, like theology.

No category of sciences exists to which one could give the name of applied sciences. There are science and the applications of science, linked together as fruit is to the tree that has borne it.
Il n'existe pas une catégorie de sciences auxquelles on puisse donner le nom de sciences appliquées. II y a la science et les applications de la science, liées entre elles comme le fruit à l'arbre qui l'a porté.

One evening at a Joint Summer Research Congerence in the early 1990's Nicholai Reshetikhin and I [David Yetter] button-holed Flato, and explained at length Shum's coherence theorem and the role of categories in "quantum knot invariants". Flato was persistently dismissive of categories as a "mere language". I retired for the evening, leaving Reshetikhin and Flato to the discussion. At the next morning's session, Flato tapped me on the shoulder, and, giving a thumbs-up sign, whispered, "Hey! Viva les categories! These new ones, the braided monoidal ones."

The argument of the 'long view' may be correct in some meaninglessly abstract sense, but it represents a fundamental mistake in categories and time scales. Our only legitimate long view extends to our children and our children's children's children–hundreds or a few thousands of years down the road. If we let the slaughter continue, they will share a bleak world with rats, dogs, cockroaches, pigeons, and mosquitoes. A potential recovery millions of years later has no meaning at our appropriate scale.

There is no such thing as a special category of science called applied science; there is science and its applications, which are related to one another as the fruit is related to the tree that has borne it.

There is nothing opposed in Biometry and Mendelism. Your husband [W.F.R. Weldon] and I worked that out at Peppards [on the Chilterns] and you will see it referred in the Biometrika memoir. The Mendelian formula leads up to the "ancestral law." What we fought against was the slovenliness in applying Mendel's categories and asserting that such formulae apply in cases when they did not.

We dissect nature along lines laid down by our native languages. The categories and types that we isolate from the world of phenomena we do not find there because they stare every observer in the face; on the contrary, the world is presented in a kaleidoscopic flux of impressions which has to be organized by our minds—and this means largely by the linguistic systems in our minds.