Shoulder Quotes (7 quotes)
Aristotle, in spite of his reputation, is full of absurdities. He says that children should be conceived in the Winter, when the wind is in the North, and that if people marry too young the children will be female. He tells us that the blood of females is blacker then that of males; that the pig is the only animal liable to measles; that an elephant suffering from insomnia should have its shoulders rubbed with salt, olive-oil, and warm water; that women have fewer teeth than men, and so on. Nevertheless, he is considered by the great majority of philosophers a paragon of wisdom.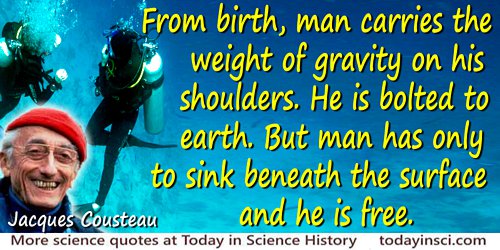 From birth, man carries the weight of gravity on his shoulders. He is bolted to earth. But man has only to sink beneath the surface and he is free.

No collateral science had profited so much by palζontology as that which teaches the structure and mode of formation of the earth's crust, with the relative position, time, and order of formation of its constituent stratified and unstratified parts. Geology has left her old hand-maiden mineralogy to rest almost wholly on the broad shoulders of her young and vigorous offspring, the science of organic remains.

One of the differences between the natural and the social sciences is that in the natural sciences, each succeeding generation stands on the shoulders of those that have gone before, while in the social sciences, each generation steps in the faces of its predecessors.

The train, panting up past lonely farms,
Fed by the fireman's restless arms…
Past cotton grass and moorland boulder,
Shoveling white steam over her shoulder.

There is a story that once, not long after he came to Berlin, Planck forgot which room had been assigned to him for a lecture and stopped at the entrance office of the university to find out. Please tell me, he asked the elderly man in charge, 'In which room does Professor Planck lecture today?' The old man patted him on the shoulder 'Don't go there, young fellow,' he said 'You are much too young to understand the lectures of our learned Professor Planck'.

You have … been told that science grows like an organism. You have been told that, if we today see further than our predecessors, it is only because we stand on their shoulders. But this [Nobel Prize Presentation] is an occasion on which I should prefer to remember, not the giants upon whose shoulders we stood, but the friends with whom we stood arm in arm … colleagues in so much of my work.