Shoulder Quotes (13 quotes)
Aristotle, in spite of his reputation, is full of absurdities. He says that children should be conceived in the Winter, when the wind is in the North, and that if people marry too young the children will be female. He tells us that the blood of females is blacker then that of males; that the pig is the only animal liable to measles; that an elephant suffering from insomnia should have its shoulders rubbed with salt, olive-oil, and warm water; that women have fewer teeth than men, and so on. Nevertheless, he is considered by the great majority of philosophers a paragon of wisdom.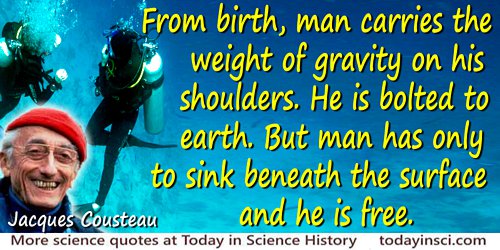 From birth, man carries the weight of gravity on his shoulders. He is bolted to earth. But man has only to sink beneath the surface and he is free.

I mean, if 10 years from now, when you are doing something quick and dirty, you suddenly visualize that I am looking over your shoulders and say to yourself 'Dijkstra would not have liked this', well, that would be enough immortality for me.

Jesus tapped me on the shoulder and said, "Bob, why are you resisting me?" I said, "I'm not resisting You!" He said, "You gonna follow Me?" I said, "I've never thought about that before!" He said, "When you're not following Me, you're resisting Me."

Modern man is weighed down more by the burden of responsibility than by the burden of sin. We think him more a savior who shoulders our responsibilities than him who shoulders our sins. If instead of making decisions we have but to obey and do our duty, we feel it as a sort of salvation.

No collateral science had profited so much by palćontology as that which teaches the structure and mode of formation of the earth's crust, with the relative position, time, and order of formation of its constituent stratified and unstratified parts. Geology has left her old hand-maiden mineralogy to rest almost wholly on the broad shoulders of her young and vigorous offspring, the science of organic remains.

One evening at a Joint Summer Research Congerence in the early 1990's Nicholai Reshetikhin and I [David Yetter] button-holed Flato, and explained at length Shum's coherence theorem and the role of categories in "quantum knot invariants". Flato was persistently dismissive of categories as a "mere language". I retired for the evening, leaving Reshetikhin and Flato to the discussion. At the next morning's session, Flato tapped me on the shoulder, and, giving a thumbs-up sign, whispered, "Hey! Viva les categories! These new ones, the braided monoidal ones."

One of the differences between the natural and the social sciences is that in the natural sciences, each succeeding generation stands on the shoulders of those that have gone before, while in the social sciences, each generation steps in the faces of its predecessors.

She has the sort of body you go to see in marble. She has golden hair. Quickly, deftly, she reaches with both hands behind her back and unclasps her top. Setting it on her lap, she swivels ninety degrees to face the towboat square. Shoulders back, cheeks high, she holds her pose without retreat. In her ample presentation there is defiance of gravity. There is no angle of repose. She is a siren and these are her songs.

The train, panting up past lonely farms,
Fed by the fireman's restless arms…
Past cotton grass and moorland boulder,
Shoveling white steam over her shoulder.

There is a story that once, not long after he came to Berlin, Planck forgot which room had been assigned to him for a lecture and stopped at the entrance office of the university to find out. Please tell me, he asked the elderly man in charge, 'In which room does Professor Planck lecture today?' The old man patted him on the shoulder 'Don't go there, young fellow,' he said 'You are much too young to understand the lectures of our learned Professor Planck'.

This minding of other people's business expresses itself in gossip, snooping and meddling, and also in feverish interest in communal, national and racial affairs. In running away from ourselves we either fall on our neighbor's shoulder or fly at his throat.

You have … been told that science grows like an organism. You have been told that, if we today see further than our predecessors, it is only because we stand on their shoulders. But this [Nobel Prize Presentation] is an occasion on which I should prefer to remember, not the giants upon whose shoulders we stood, but the friends with whom we stood arm in arm … colleagues in so much of my work.