Bolt Quotes (10 quotes)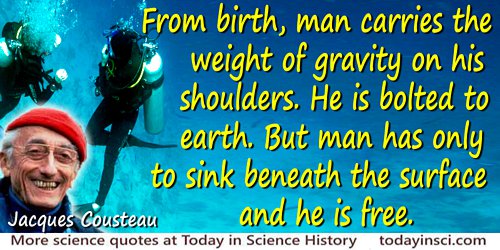 From birth, man carries the weight of gravity on his shoulders. He is bolted to earth. But man has only to sink beneath the surface and he is free.

I had a Meccano set with which I "played" endlessly. Meccano which was invented by Frank Hornby around 1900, is called Erector Set in the US. New toys (mainly Lego) have led to the extinction of Meccano and this has been a major disaster as far as the education of our young engineers and scientists is concerned. Lego is a technically trivial plaything and kids love it partly because it is so simple and partly because it is seductively coloured. However it is only a toy, whereas Meccano is a real engineering kit and it teaches one skill which I consider to be the most important that anyone can acquire: This is the sensitive touch needed to thread a nut on a bolt and tighten them with a screwdriver and spanner just enough that they stay locked, but not so tightly that the thread is stripped or they cannot be unscrewed. On those occasions (usually during a party at your house) when the handbasin tap is closed so tightly that you cannot turn it back on, you know the last person to use the washroom never had a Meccano set.

I made my own ABC of climbing. A is no artificial oxygen. B is no bolts. And C is no communication systems.

If one small and odd lineage of fishes had not evolved fins capable of bearing weight on land (though evolved for different reasons in lakes and seas,) terrestrial vertebrates would never have arisen. If a large extraterrestrial object—the ultimate random bolt from the blue—had not triggered the extinction of dinosaurs 65 million years ago, mammals would still be small creatures, confined to the nooks and crannies of a dinosaur's world, and incapable of evolving the larger size that brains big enough for self-consciousness require. If a small and tenuous population of protohumans had not survived a hundred slings and arrows of outrageous fortune (and potential extinction) on the savannas of Africa, then Homo sapiens would never have emerged to spread throughout the globe. We are glorious accidents of an unpredictable process with no drive to complexity, not the expected results of evolutionary principles that yearn to produce a creature capable of understanding the mode of its own necessary construction.

In the summer after kindergarten, a friend introduced me to the joys of building plastic model airplanes and warships. By the fourth grade, I graduated to an erector set and spent many happy hours constructing devices of unknown purpose where the main design criterion was to maximize the number of moving parts and overall size. The living room rug was frequently littered with hundreds of metal "girders" and tiny nuts and bolts surrounding half-finished structures. An understanding mother allowed me to keep the projects going for days on end.

Significant inventions are not mere accidents. The erroneous view [that they are] is widely held, and it is one that the scientific and technical community, unfortunately, has done little to dispel. Happenstance usually plays a part, to be sure, but there is much more to invention than the popular notion of a bolt out of the blue. Knowledge in depth and in breadth are virtual prerequisites. Unless the mind is thoroughly charged beforehand, the proverbial spark of genius, if it should manifest itself, probably will find nothing to ignite.

The farthest Thunder that I heard
Was nearer than the Sky
And rumbles still, though torrid Noons
Have lain their missiles by-
The Lightning that preceded it
Struck no one but myself-
But I would not exchange the Bolt
For all the rest of Life-
Indebtedness to Oxygen
The Happy may repay,
But not the obligation
To Electricity-
It founds the Homes and decks the Days
And every clamor bright
Is but the gleam concomitant
Of that waylaying Light-
The Thought is quiet as a Flake-
A Crash without a Sound,
How Life's reverberation
Is Explanation found-—

The uniformity of the earth's life, more astonishing than its diversity, is accountable by the high probability that we derived, originally, from some single cell, fertilized in a bolt of lightning as the earth cooled. It is from the progeny of this parent cell that we take our looks; we still share genes around, and the resemblance of the enzymes of grasses to those of whales is a family resemblance.

There was rock to the left and rock to the right, and low lean thorn between
And thrice he heard a breech bolt snick, tho never a man was seen.

[It] is not the nature of things for any one man to make a sudden, violent discovery; science goes step by step and every man depends on the work of his predecessors. When you hear of a sudden unexpected discovery—a bolt from the blue—you can always be sure that it has grown up by the influence of one man or another, and it is the mutual influence which makes the enormous possibility of scientific advance. Scientists are not dependent on the ideas of a single man, but on the combined wisdom of thousands of men, all thinking of the same problem and each doing his little bit to add to the great structure of knowledge which is gradually being erected.