Bolt Quotes (4 quotes)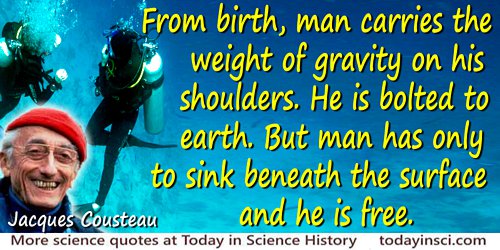 From birth, man carries the weight of gravity on his shoulders. He is bolted to earth. But man has only to sink beneath the surface and he is free.

I had a Meccano set with which I "played" endlessly. Meccano which was invented by Frank Hornby around 1900, is called Erector Set in the US. New toys (mainly Lego) have led to the extinction of Meccano and this has been a major disaster as far as the education of our young engineers and scientists is concerned. Lego is a technically trivial plaything and kids love it partly because it is so simple and partly because it is seductively coloured. However it is only a toy, whereas Meccano is a real engineering kit and it teaches one skill which I consider to be the most important that anyone can acquire: This is the sensitive touch needed to thread a nut on a bolt and tighten them with a screwdriver and spanner just enough that they stay locked, but not so tightly that the thread is stripped or they cannot be unscrewed. On those occasions (usually during a party at your house) when the handbasin tap is closed so tightly that you cannot turn it back on, you know the last person to use the washroom never had a Meccano set.

The farthest Thunder that I heard
Was nearer than the Sky
And rumbles still, though torrid Noons
Have lain their missiles by-
The Lightning that preceded it
Struck no one but myself-
But I would not exchange the Bolt
For all the rest of Life-
Indebtedness to Oxygen
The Happy may repay,
But not the obligation
To Electricity-
It founds the Homes and decks the Days
And every clamor bright
Is but the gleam concomitant
Of that waylaying Light-
The Thought is quiet as a Flake-
A Crash without a Sound,
How Life's reverberation
Is Explanation found-—

[It] is not the nature of things for any one man to make a sudden, violent discovery; science goes step by step and every man depends on the work of his predecessors. When you hear of a sudden unexpected discovery—a bolt from the blue—you can always be sure that it has grown up by the influence of one man or another, and it is the mutual influence which makes the enormous possibility of scientific advance. Scientists are not dependent on the ideas of a single man, but on the combined wisdom of thousands of men, all thinking of the same problem and each doing his little bit to add to the great structure of knowledge which is gradually being erected.