Beneath Quotes (6 quotes)
Beneath all the wealth of detail in a geological map lies an elegant, orderly simplicity.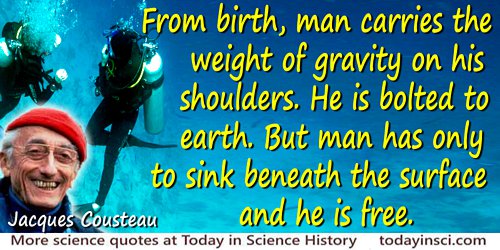 From birth, man carries the weight of gravity on his shoulders. He is bolted to earth. But man has only to sink beneath the surface and he is free.

In our way of life … with every decision we make, we always keep in mind the seventh generation of children to come. … When we walk upon Mother Earth, we always plant our feet carefully, because we know that the faces of future generations are looking up at us from beneath the ground. We never forget them.

The object of geometry in all its measuring and computing, is to ascertain with exactness the plan of the great Geometer, to penetrate the veil of material forms, and disclose the thoughts which lie beneath them? When our researches are successful, and when a generous and heaven-eyed inspiration has elevated us above humanity, and raised us triumphantly into the very presence, as it were, of the divine intellect, how instantly and entirely are human pride and vanity repressed, and, by a single glance at the glories of the infinite mind, are we humbled to the dust.

We are a bit of stellar matter gone wrong. We are physical machinery—puppets that strut and talk and laugh and die as the hand of time pulls the strings beneath. But there is one elementary inescapable answer. We are that which asks the question.

We do whatever we can to deny intuition of the invisible realms. We clog up our senses with smog, jam our minds with media overload. We drown ourselves in alcohol or medicate ourselves into rigidly artificial states... we take pride in our cynicism and detachment. Perhaps we are terrified to discover that our "rationality" is itself a kind of faith, an artifice, that beneath it lies the vast territory of the unknown.