Box Quotes (9 quotes)
A box is more a coffin for the human spirit than an inspiration.

I don't know whether there is a finite set of basic laws of physics or whether there are infinite sets of structure like an infinite set of Chinese boxes. Will the electron turn out to have an interior structure? I wish I knew!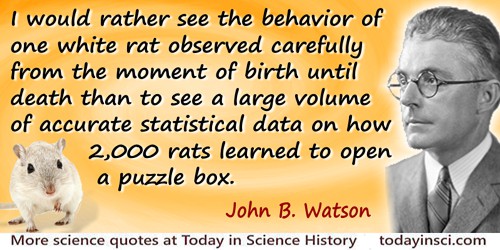 I would rather see the behavior of one white rat observed carefully from the moment of birth until death than to see a large volume of accurate statistical data on how 2,000 rats learned to open a puzzle box.

In a library we are surrounded by many hundreds of dear friends, but they are imprisoned by an enchanter in these paper and leathern boxes; and though they know us, and have been waiting two, ten, or twenty centuries for us,—some of them,—and are eager to give us a sign and unbosom themselves, it is the law of their limbo that they must not speak until spoken to; and as the enchanter has dressed them, like battalions of infantry, in coat and jacket of one cut, by the thousand and ten thousand, your chance of hitting on the right one is to be computed by the arithmetical rule of Permutation and Combination,—not a choice out of three caskets, but out of half a million caskets, all alike.

It often seems to me as if History was like a child's box of letters, with which we can spell any word we please. We have only to pick out such letters as we want, arrange them as we like, and say nothing about those which do not suit our purpose.

It was necessary to invent everything. Dynamos, regulators, meters, switches, fuses, fixtures, underground conductors with their necessary connecting boxes, and a host of other detail parts, even down to insulating tape.

One of the most interesting parts is the detective element. Archaeology is like a jigsaw puzzle, except that you can't cheat and look at the box, and not all the pieces are there.

Science can give us only the tools in the box, these mechanical miracles that it has already given us. But of what use to us are miraculous tools until we have mastered the humane, cultural use of them? We do not want to live in a world where the machine has mastered the man; we want to live in a world where man has mastered the machine.

The chemist in America has in general been content with what I have called a loafer electron theory. He has imagined the electrons sitting around on dry goods boxes at every corner [viz. the cubic atom], ready to shake hands with, or hold on to similar loafer electrons in other atoms.