(source)

John Glenn, Jr.

(18 Jul 1921 - 8 Dec 2016)




Science Quotes by John Glenn, Jr.
(30 quotes)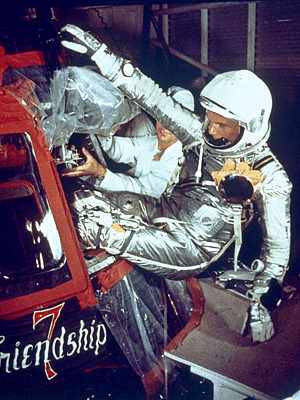 Glenn climbs into his Friendship 7 capsule for his historic flight on 20 Feb 1962.
(source)
As I hurtled through space, one thought kept crossing my mind—every part of this rocket was supplied by the lowest bidder.

— John Glenn, Jr.

As to how far in advance of the first flight the man should know he's going. I'm not in agreement with the argument that says word should be delayed until the last possible moment to save the pilot from developing a bad case of the jitters. If we don't have the confidence to keep from getting clutched at that time, we have no business going at all. If I'm the guy going, I'll be glad to get the dope as soon as possible. As for keeping this a big secret from us and having us all suited up and then saying to one man "you go" and stuffing him in and putting the lid on that thing and away he goes, well, we're all big boys now.

— John Glenn, Jr.

Could this have just happened? Was it an accident that a bunch of flotsam and jetsam suddenly started making these orbits of its own accord? I can't believe that. … Some power put all this into orbit and keeps it there.

— John Glenn, Jr.

I don't know what you could say about a day in which you have seen four beautiful sunsets.

— John Glenn, Jr.

I don't think many people remember what life was like in those days. This was the era when the Russians were claiming superiority, and they could make a pretty good case—they put up Sputnik in '57; they had already sent men into space to orbit the earth. There was this fear that perhaps communism was the wave of the future. The astronauts, all of us, really believed we were locked in a battle of democracy versus communism, where the winner would dominate the world.

— John Glenn, Jr.

I felt exactly how you would feel if you were getting ready to launch and knew you were sitting on top of two million parts—all built by the lowest bidder on a government contract.

— John Glenn, Jr.

I had a wonderful time the first time. I think I was probably more nervous back in those days because we did not know much about spaceflight in those days; we were sort of feeling our way and finding out what would happen to the human body in space and now we are putting the whole thing to work for everybody up here so I think I was a little more nervous the first time.

— John Glenn, Jr.

I pray every day and I think everybody should. I don't think you can be up here and look out the window as I did the first day and look out at the Earth from this vantage point. We're not so high compared to people who went to the moon and back. But to look out at this kind of creation out here and not believe in God is, to me, impossible. It just strengthens my faith.

— John Glenn, Jr.

I still find it hard to believe how far we have come, from the time I first flew on Friendship 7 and the Discovery flight. I go from being crammed into a capsule the size of a telephone booth to a place where I could live and work in space. … Amazing.

— John Glenn, Jr.

If there is one thing I've learned in my years on this planet, it's that the happiest and most fulfilled people I've known are those who devoted themselves to something bigger and more profound than merely their own self interest.

— John Glenn, Jr.

If this cynicism and apathy are allowed to continue to fester, it will not only be dangerous, but in our democracy it will be suicidal.

— John Glenn, Jr.

It's an advantage up here for older folks because in Zero-g you can move around much more easily.

— John Glenn, Jr.

Knowledge begets knowledge. The more I see, the more impressed I am not with what we know but with how tremendous the areas are as yet unexplored.

— John Glenn, Jr.

Many times every day I think of taking off in that missile. I've tried a thousand times to visualize that moment, to anticipate how I'll feel if I'm first, which I very much want to be. But whether I go first or go later. I approach it now with some awe, and I'm sure I'll approach it with even more awe on my day. In spite of the fact that I will he very busy getting set and keeping tabs on all the instruments, there's no question that I'll need—and will have—all my confidence.

— John Glenn, Jr.

People have been looking up at the skies for 10,000 years, wondering and dreaming. I hope we always do.

— John Glenn, Jr.

Personally, I feel sorry for those who seem to measure their patriotism by how often and how viciously they can criticise our government.

— John Glenn, Jr.

Space travel is at the frontier of my profession. It is going to be accomplished and I want to be in on it. There is also an element of simple duty involved. I am convinced that I have something to give this project.

— John Glenn, Jr.

The attempt of the engineers and the doctors who have worked on the design of the capsule interior has been to give the impression, to create the fact, of roominess in a confined space.

— John Glenn, Jr.

The most important thing we can do is inspire young minds and to advance the kind of science, math and technology education that will help youngsters take us to the next phase of space travel.

— John Glenn, Jr.

There is still no cure for the common birthday.

— John Glenn, Jr.

There was some doubt whether the heat shield had been damaged … This could have been a bad day all the way around if this had been the case.

— John Glenn, Jr.

This is Friendship 7. Can see clear back; a big cloud pattern way back across towards the Cape. Beautiful sight.

— John Glenn, Jr.

This [disaster] is a day we have managed to avoid for a quarter of a century. We've talked about it before and speculated about it, and it finally has occurred. We hoped we could push this day back forever.

— John Glenn, Jr.

To get your name well enough known that you can run for a public office, some people do it by being great lawyers or philanthropists or business people or work their way up the political ladder. I happened to become known from a different route.

— John Glenn, Jr.

To me, it [the 1962 space flight of Friendship 7] is not something that happened a long time ago. It seems like a couple of days ago, really. It's a rare day I don't think about it, relive it in my mind. I can remember every switch I flipped, every move I made, every word I spoke and every word spoken to me. Clear as a bell.

— John Glenn, Jr.

To me, there is no greater calling. If I can inspire young people to dedicate themselves to the good of mankind, I've accomplished something.

— John Glenn, Jr.

We are placed here with certain talents and capabilities. It is up to each of us to use those talents and capabilities as best you can. If you do that, I think there is a power greater than any of us that will place the opportunities in our way, and if we use our talents properly, we will be living the kind of life we should live.

— John Glenn, Jr.

Zero-g and I feel fine. Capsule is turning around. … Oh, that view is tremendous!

— John Glenn, Jr.

[In childhood, to overcome fear, the] need took me back again and again to a sycamore tree rising from the earth at the edge of a ravine. It was a big, old tree that had grown out over the ravine, so that when you climbed it, you looked straight down fifty feet or more. Every time I climbed that tree, I forced myself to climb to the last possible safe limb and then look down. Every time I did it, I told myself I'd never do it again. But I kept going back because it scared me and I had to know I could overcome that.

— John Glenn, Jr.

[The center must be more than just] old junk in a box. [It must be a] living dynamic thing to attract people to public service at all levels.

— John Glenn, Jr.

---
Quotes by others about John Glenn, Jr. (3)
I fully expect that NASA will send me back to the Moon as they treated Senator [John] Glenn, and if they don't do otherwise, why, then I'll have to do it myself.

Dogbert: So, Since Columbus is dead, you have no evidence that the earth is round.
Dilbert: Look. You can Ask Senator John Glenn. He orbited the earth when he was an astronaut.
Dogbert: So, your theory depends on the honesty of politicians.
Dilbert: Yes... no, wait...

I didn't really decide that I wanted to be an astronaut for sure until the end of college. But even in elementary school and junior high, I was very interested in space and in the space program. I had both male and female heroes. One was a high school science teacher who was very important in encouraging me to pursue science. Because I was a tennis player, Billie Jean King was a hero of mine. And the early astronauts, John Glenn and Neil Armstrong, were heroes of mine as well.

See also:
18 Jul - short biography, births, deaths and events on date of Glenn's birth.
John Glenn: A Memoir, by John Glenn. - book suggestion.
Booklist for John Glenn.