Suit Quotes (7 quotes)
As to how far in advance of the first flight the man should know he's going. I'm not in agreement with the argument that says word should be delayed until the last possible moment to save the pilot from developing a bad case of the jitters. If we don't have the confidence to keep from getting clutched at that time, we have no business going at all. If I'm the guy going, I'll be glad to get the dope as soon as possible. As for keeping this a big secret from us and having us all suited up and then saying to one man "you go" and stuffing him in and putting the lid on that thing and away he goes, well, we're all big boys now.

It is a capital mistake to theorize before one has data. Insensibly one begins to twist facts to suit theories, instead of theories to suit facts.

Man tries to make for himself in the fashion that suits him best a simplified and intelligible picture of the world; he then tries to some extent to substitute this cosmos of his for the world of experience, and thus to overcome it. This is what the painter, the poet, the speculative philosopher, and the natural scientist do, each in his own fashion. Each makes this cosmos and its construction the pivot of his emotional life, in order to find in this way the peace and security which he cannot find in the narrow whirlpool of personal experience.

Men who have excessive faith in their theories … make poor observations, because they choose among the results of their experiments only what suits their object, neglecting whatever is unrelated to it and carefully setting aside everything which might tend toward the idea they wish to combat

The surgeon is a man of action. By temperament and by training he prefers to serve the sick by operating on them, and he inwardly commiserates with a patient so unfortunate as to have a disease not suited to surgical treatment. Young surgeons, busy mastering the technicalities of the art, are particularly alert to seize every legitimate opportunity to practice technical maneuvers, the more complicated the better.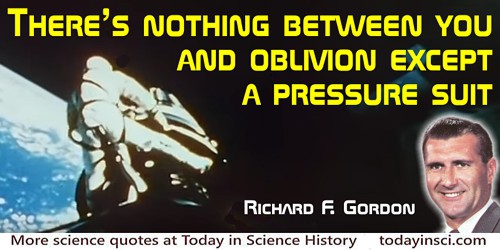 There's nothing between you and oblivion except a pressure suit, and you just can't afford to get out there and get in a big rush and tangle yourself up where nobody can help you. … The biggest thing I've learned from the people that have gone in the past, you simply have to take your time, and you can't exhaust yourself.

There's something about a pious man such as he. He will cheerfully cut your throat if it suits him, but he will hesitate to endanger the welfare of your immaterial and problematical soul.