Exhaust Quotes (12 quotes)
Nous avons l'obligation aux Anciens de nous avoir épuisé la plus grande partie des idées fausses qu'on le pouvait faire
We are under obligation to the ancients for having exhausted all the false theories that could be formed.

Edison was by far the most successful and, probably, the last exponent of the purely empirical method of investigation. Everything he achieved was the result of persistent trials and experiments often performed at random but always attesting extraordinary vigor and resource. Starting from a few known elements, he would make their combinations and permutations, tabulate them and run through the whole list, completing test after test with incredible rapidity until he obtained a clue. His mind was dominated by one idea, to leave no stone unturned, to exhaust every possibility.

Energy is the measure of that which passes from one atom to another in the course of their transformations. A unifying power, then, but also, because the atom appears to become enriched or exhausted in the course of the exchange, the expression of structure.

Every detection of what is false directs us towards what is true: every trial exhausts some tempting form of error.

History teaches us that men and nations behave wisely once they have exhausted all other alternatives.

Never look for a psychological explanation unless every effort to find a cultural one has been exhausted.

Something will have gone out of us as a people if we ever let the remaining wilderness be destroyed; if we permit the last virgin for-ests to be turned into comic books and plastic cigarette cases; if we drive the few remaining members of the wild species into zoos or to extinction; if we pollute the last clean air and dirty the last clean streams and push our paved roads through the last of the silence, so that never again will Americans be free in their own country from the noise, the exhausts, the stinks of human and automotive waste.

The thoughts of Plato and Machiavelli... don't seem quite enough armor for a world beset with splitting the atoms, urban guerrillas, nineteen varieties of psychotherapists, amplified guitars, napalm, computers, astronauts, and an atmosphere polluted simultaneously with auto exhaust and TV commercials.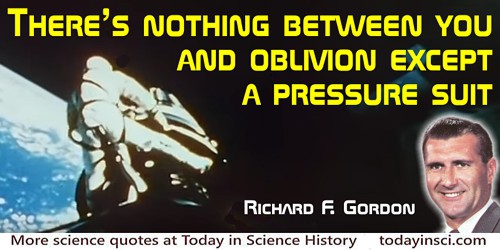 There's nothing between you and oblivion except a pressure suit, and you just can't afford to get out there and get in a big rush and tangle yourself up where nobody can help you. … The biggest thing I've learned from the people that have gone in the past, you simply have to take your time, and you can't exhaust yourself.

We live in a capitalist economy, and I have no particular objection to honorable self-interest. We cannot hope to make the needed, drastic improvement in primary and secondary education without a dramatic restructuring of salaries. In my opinion, you cannot pay a good teacher enough money to recompense the value of talent applied to the education of young children. I teach an hour or two a day to tolerably well-behaved near-adults–and I come home exhausted. By what possible argument are my services worth more in salary than those of a secondary-school teacher with six classes a day, little prestige, less support, massive problems of discipline, and a fundamental role in shaping minds. (In comparison, I only tinker with intellects already largely formed.)

When two people are under the influence of the most violent, most insane, most delusive, and most transient of passions, they are required to swear that they will remain in that exalted, abnormal, and exhausting condition continuously until death do them part.

When you believe you have found an important scientific fact, and are feverishly curious to publish it, constrain yourself for days, weeks, years sometimes, fight yourself, try and ruin your own experiments, and only proclaim your discovery after having exhausted all contrary hypotheses. But when, after so many efforts you have at last arrived at a certainty, your joy is one of the greatest which can be felt by a human soul.