Proclaim Quotes (13 quotes)
All versions written for nonscientists speak of fused males as the curious tale of the anglerfish–just as we so often hear about the monkey swinging through the trees, or the worm burrowing through soil. But if nature teaches us any lesson, it loudly proclaims life's diversity. There ain't no such abstraction as the clam, the fly, or the anglerfish. Ceratioid anglerfishes come in nearly 100 species, and each has its own peculiarity.

An old paleontological in joke proclaims that mammalian evolution is a tale told by teeth mating to produce slightly altered descendant teeth.

Bacteria represent the world's greatest success story. They are today and have always been the modal organisms on earth; they cannot be nuked to oblivion and will outlive us all. This time is their time, not the 'age of mammals' as our textbooks chauvinistically proclaim. But their price for such success is permanent relegation to a microworld, and they cannot know the joy and pain of consciousness. We live in a universe of trade-offs; complexity and persistence do not work well as partners.

Every movement in the skies or upon the earth proclaims to us that the universe is under government.

Mathematics is a form of poetry which transcends poetry in that it proclaims a truth; a form of reasoning which transcends reasoning in that it wants to bring about the truth it proclaims; a form of action, of ritual behavior, which does not find fulfilment in the act but must proclaim and elaborate a poetic form of truth.

Physicians, of all men, are most happy; whatever good success soever they have, the world proclaimeth; and what faults they commit, the earth covereth.

Religion is, in reality, living. Our religion is not what we profess, or what we say, or what we proclaim; our religion is what we do, what we desire, what we seek, what we dream about, what we fantasize, what we think—all these things.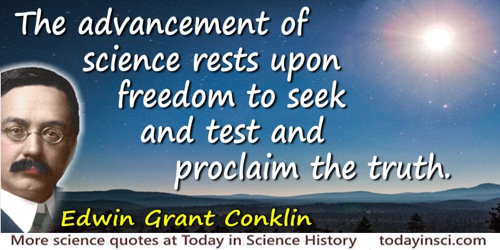 The advancement of science rests upon freedom to seek and test and proclaim the truth.

The combination in time and space of all these thoughtful conceptions [of Nature] exhibits not only thought, it shows also premeditation, power, wisdom, greatness, prescience, omniscience, providence. In one word, all these facts in their natural connection proclaim aloud the One God, whom man may know, adore, and love; and Natural History must in good time become the analysis of the thoughts of the Creator of the Universe….

The more we split and pulverise matter artificially, the more insistently it proclaims its fundamental unity.

We do not draw conclusions with our eyes, but with our reasoning powers, and if the whole of the rest of living nature proclaims with one accord from all sides the evolution of the world of organisms, we cannot assume that the process stopped short of Man. But it follows also that the factors which brought about the development of Man from his Simian ancestry must be the same as those which have brought about the whole of evolution.

When you believe you have found an important scientific fact, and are feverishly curious to publish it, constrain yourself for days, weeks, years sometimes, fight yourself, try and ruin your own experiments, and only proclaim your discovery after having exhausted all contrary hypotheses. But when, after so many efforts you have at last arrived at a certainty, your joy is one of the greatest which can be felt by a human soul.

Without knowing it, we utilize hundreds of products each day that owe their origin to wild animals and plants. Indeed our welfare is intimately tied up with the welfare of wildlife. Well may conservationists proclaim that by saving the lives of wild species, we may be saving our own.