Abroad Quotes (8 quotes)
Creatures that by a rule in nature teach
The act of order to a peopled kingdom.
They have a king and officers of sorts;
Where some, like magistrates, correct at home,
Others, like merchants, venture trade abroad,
Others, like soldiers, armed in their stings,
Make boot upon the summer's velvet buds;
Which pillage they with merry march bring home
To the tent-royal of their emperor.
Who, busied in his majesty, surveys
The singing masons building roofs of gold;
The civil citizens kneading up the honey;
The poor mechanic porters crowding
Their heavy burdens at his narrow gate;
The sad-eyed justice, with his surly hum,
Delivering o'er to executors pale
The lazy yawning drone.

For they are not given to idleness, nor go in a proud habit, or plush and velvet garments, often showing their rings upon their fingers, or wearing swords with silver hilts by their sides, or fine and gay gloves upon their hands, but diligently follow their labours, sweating whole days and nights by their furnaces. They do not spend their time abroad for recreation, but take delight in their laboratory. They wear leather garments with a pouch, and an apron wherewith they wipe their hands. They put their fingers amongst coals, into clay, and filth, not into gold rings. They are sooty and black like smiths and colliers, and do not pride themselves upon clean and beautiful faces.

I dislike feeling at home when I am abroad

Many people are shrinking from the future and from participation in the movement toward a new, expanded reality. And, like homesick travelers abroad, they are focusing their anxieties on home. The reasons are not far to seek. We are at a turning point in human history... We could turn our attention to the problems that going to the moon certainly will not solve ... But I think this would be fatal to our future... A society that no longer moves forward does not merely stagnate; it begins to die.

The advancement of agriculture, commerce and manufactures, by all proper means, will not, I trust, need recommendation. But I cannot forbear intimating to you the expediency of giving effectual encouragement as well to the introduction of new and useful inventions from abroad, as to the exertions of skill and genius in producing them at home.

Though Darwin may proclaim the law,
And spread it far abroad, O!
The man that first the secret saw,
Was honest old Monboddo.
The Architect precedence takes
Of him that bears the hod, 0!
So up and at them, Land of Cakes!
We'll vindicate Monboddo.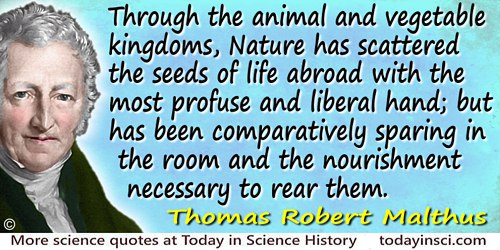 Through the animal and vegetable kingdoms, Nature has scattered the seeds of life abroad with the most profuse and liberal hand; but has been comparatively sparing in the room and the nourishment necessary to rear them. The germs of existence contained in this spot of earth, if they could freely develop themselves, would fill millions of worlds in the course of a few thousand years. Necessity, that imperious all-pervading law of nature, restrains them within the prescribed bounds. The race of plants and the race of animals shrink under this great restrictive law; and man cannot by any efforts of reason escape from it.

[On suburbia] We're bringing up our children in one-class areas. When they grow up and move to a city or go abroad, they're not accustomed to variety and they get uncertain and insecure. We should bring up our children where they're exposed to all types of people.