(source)

Thomas Robert Malthus

(13 Feb 1766 - 23 Dec 1834)




Science Quotes by Thomas Robert Malthus
(7 quotes)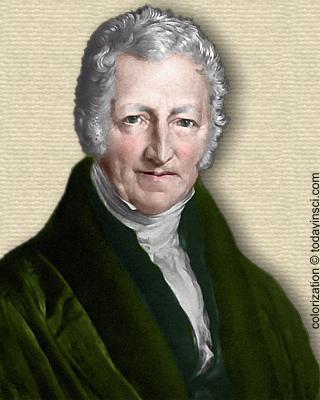 Famine seems to be the last, the most dreadful resource of nature. The power of population is so superior to the power in the earth to produce subsistence for man, that premature death must in some shape or other visit the human race. The vices of mankind are active and able ministers of depopulation. They are the precursors in the great army of destruction; and often finish the dreadful work themselves. But should they fail in this war of extermination, sickly seasons, epidemics, pestilence, and plague, advance in terrific array, and sweep off their thousands and ten thousands. Should success be still incomplete, gigantic inevitable famine stalks in the rear, and with one mighty blow, levels the population with the food of the world.

— Thomas Robert Malthus

I think I may fairly make two postulata. First, That food is necessary to the existence of man. Secondly, That the passion between the sexes is necessary and will remain nearly in its present state. These two laws ever since we have had any knowledge of mankind, appear to have been fixed laws of our nature; and, as we have not hitherto seen any alteration in them, we have no right to conclude that they will ever cease to be what they are now, without an immediate act of power in that Being who first arranged the system of the universe; and for the advantage of his creatures, still executes, according to fixed laws, all its various operations.

— Thomas Robert Malthus

Population, when unchecked, goes on doubling itself every twenty-five years, or increases in a geometrical ratio. … The means of subsistence, under circumstances the most favorable to human industry, could not possibly be made to increase faster than in an arithmetical ratio.

— Thomas Robert Malthus

Population, when unchecked, increases in a geometrical ratio. Subsistence increases only in an arithmetical ratio. A slight acquaintance with numbers will show the immensity of the first power in comparison of the second.

— Thomas Robert Malthus

That a woman should at present be almost driven from society, for an offence [illegitimate childbearing], which men commit nearly with impunity, seems to be undoubtedly a breach of natural justice… . What at first might be dictated by state necessity, is now supported by female delicacy; and operates with the greatest force on that part of society, where, if the original intention of the custom were preserved, there is the least real occasion for it.

— Thomas Robert Malthus

The prodigious waste of human life occasioned by this perpetual struggle for room and food, was more than supplied by the mighty power of population, acting, in some degree, unshackled, from the constant habit of emigration.

— Thomas Robert Malthus

Through the animal and vegetable kingdoms, Nature has scattered the seeds of life abroad with the most profuse and liberal hand; but has been comparatively sparing in the room and the nourishment necessary to rear them. The germs of existence contained in this spot of earth, if they could freely develop themselves, would fill millions of worlds in the course of a few thousand years. Necessity, that imperious all-pervading law of nature, restrains them within the prescribed bounds. The race of plants and the race of animals shrink under this great restrictive law; and man cannot by any efforts of reason escape from it.

— Thomas Robert Malthus

---
Quotes by others about Thomas Robert Malthus (6)
In October 1838, that is, fifteen months after I had begun my systematic enquiry, I happened to read for amusement Malthus on Population, and being well prepared to appreciate the struggle for existence which everywhere goes on from long-continued observation of the habits of animals and plants, it at once struck me that under these circumstances favourable variations would tend to be, preserved, and unfavourable ones to be destroyed. The result of this would be the formation of new species. Here, then, I had at last got a theory by which to work; but I was so anxious to avoid prejudice, that I determined not for some time to write even the briefest sketch of it.

The Struggle for Existence amongst all organic beings throughout the world, which inevitably follows from their high geometrical powers of increase ... This is the doctrine of Malthus, applied to the whole animal and vegetable kingdoms. As many more individuals of each species are born than can possibly survive; and as, consequently, there is a frequently recurring struggle for existence, it follows that any being, if it vary however slightly in any manner profitable to itself, under the complex and sometimes varying conditions of life, will have a better chance of surviving, and thus be naturally selected. From the strong principle of inheritance, any selected variety will tend to propagate its new and modified form.

I was suffering from a sharp attack of intermittent fever, and every day during the cold and succeeding hot fits had to lie down for several hours, during which time I had nothing to do but to think over any subjects then particularly interesting me. One day something brought to my recollection Malthus's 'Principles of Population', which I had read about twelve years before. I thought of his clear exposition of 'the positive checks to increase'—disease, accidents, war, and famine—which keep down the population of savage races to so much lower an average than that of more civilized peoples. It then occurred to me that these causes or their equivalents are continually acting in the case of animals also; and as animals usually breed much more rapidly than does mankind, the destruction every year from these causes must be enormous in order to keep down the numbers of each species, since they evidently do not increase regularly from year to year, as otherwise the world would long ago have been densely crowded with those that breed most quickly. Vaguely thinking over the enormous and constant destruction which this implied, it occurred to me to ask the question, Why do some die and some live? The answer was clearly, that on the whole the best fitted live. From the effects of disease the most healthy escaped; from enemies, the strongest, swiftest, or the most cunning; from famine, the best hunters or those with the best digestion; and so on. Then it suddenly flashed upon me that this self-acting process would necessarily improve the race, because in every generation the inferior would inevitably be killed off and the superior would remain—that is, the fittest would survive.
[The phrase 'survival of the fittest,' suggested by the writings of Thomas Robert Malthus, was expressed in those words by Herbert Spencer in 1865. Wallace saw the term in correspondence from Charles Darwin the following year, 1866. However, Wallace did not publish anything on his use of the expression until very much later, and his recollection is likely flawed.]

Malthus argued a century and a half ago that man, by using up all his available resources, would forever press on the limits of subsistence, thus condemning humanity to an indefinite future of misery and poverty. We can now begin to hope and, I believe, know that Malthus was expressing not a law of nature, but merely the limitation then of scientific and social wisdom. The truth or falsity of his prediction will depend now, with the tools we have, on our own actions, now and in the years to come.

As agonizing a disease as cancer is, I do not think it can be said that our civilization is threatened by it. … But a very plausible case can be made that our civilization is fundamentally threatened by the lack of adequate fertility control. Exponential increases of population will dominate any arithmetic increases, even those brought about by heroic technological initiatives, in the availability of food and resources, as Malthus long ago realized.

The problem [evolution] presented itself to me, and something led me to think of the positive checks described by Malthus in his Essay on Population, a work I had read several years before, and which had made a deep and permanent impression on my mind. These checks—war, disease, famine, and the like—must, it occurred to me, act on animals as well as man. Then I thought of the enormously rapid multiplication of animals, causing these checks to be much more effective in them than in the case of man; and while pondering vaguely on this fact, there suddenly flashed upon me the idea of the survival of the fittest—that the individuals removed by these checks must be on the whole inferior to those that survived. I sketched the draft of my paper … and sent it by the next post to Mr. Darwin.