Array Quotes (5 quotes)
Cyberspace consists of transactions, relationships, and thought itself, arrayed like a standing wave in the web of our communications. Ours is a world that is both everywhere and nowhere, but it is not where bodies live. We are creating a world that all may enter without privilege or prejudice accorded by race, economic power, military force, or station of birth. We are creating a world where anyone, anywhere may express his or her beliefs, no matter how singular, without fear of being coerced into silence or conformity.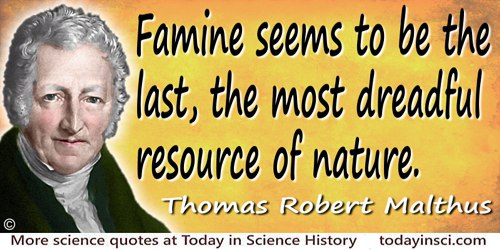 Famine seems to be the last, the most dreadful resource of nature. The power of population is so superior to the power in the earth to produce subsistence for man, that premature death must in some shape or other visit the human race. The vices of mankind are active and able ministers of depopulation. They are the precursors in the great army of destruction; and often finish the dreadful work themselves. But should they fail in this war of extermination, sickly seasons, epidemics, pestilence, and plague, advance in terrific array, and sweep off their thousands and ten thousands. Should success be still incomplete, gigantic inevitable famine stalks in the rear, and with one mighty blow, levels the population with the food of the world.

Numbers … were his friends. In the simplest array of digits [Ramanujan] detected wonderful properties: congruences, symmetries and relationships which had escaped the notice of even the outstandingly gifted theoreticians.

Scientific discovery, or the formulation of scientific theory, starts in with the unvarnished and unembroidered evidence of the senses. It starts with simple observation—simple, unbiased, unprejudiced, naive, or innocent observation—and out of this sensory evidence, embodied in the form of simple propositions or declarations of fact, generalizations will grow up and take shape, almost as if some process of crystallization or condensation were taking place. Out of a disorderly array of facts, an orderly theory, an orderly general statement, will somehow emerge.

The Archetypal idea was manifested in the flesh, under divers such modifications, upon this planet, long prior to the existence of those animal species that actually exemplify it. To what natural laws or secondary causes the orderly succession and progression of such organic phaenomena may have been committed we as yet are ignorant. But if, without derogation of the Divine power, we may conceive the existence of such ministers, and personify them by the term 'Nature,' we learn from the past history of our globe that she has advanced with slow and stately steps, guided by the archetypal light, amidst the wreck of worlds, from the first embodiment of the Vertebrate idea under its old Ichthyic vestment, until it became arrayed in the glorious garb of the Human form.