Precursor Quotes (2 quotes)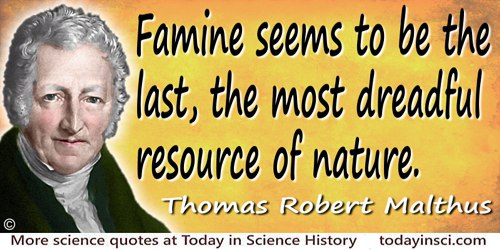 Famine seems to be the last, the most dreadful resource of nature. The power of population is so superior to the power in the earth to produce subsistence for man, that premature death must in some shape or other visit the human race. The vices of mankind are active and able ministers of depopulation. They are the precursors in the great army of destruction; and often finish the dreadful work themselves. But should they fail in this war of extermination, sickly seasons, epidemics, pestilence, and plague, advance in terrific array, and sweep off their thousands and ten thousands. Should success be still incomplete, gigantic inevitable famine stalks in the rear, and with one mighty blow, levels the population with the food of the world.

In the year of our Lord 729, two comets appeared around the sun, striking terror into all who saw them. One comet rose early and preceded the sun, while the other followed the setting sun at evening, seeming to portend awful calamity to east and west alike. Or else, since one comet was the precursor of day and the other of night, they indicated that mankind was menaced by evils at both times. They appeared in the month of January, and remained visible for about a fortnight, pointing their fiery torches northward as though to set the welkin aflame. At this time, a swarm of Saracens ravaged Gaul with horrible slaughter; … Both the outset and course of Ceolwulfs reign were filled by so many grave disturbances that it is quite impossible to know what to write about them or what the outcome will be.