Themself Quotes (4 quotes)
A work of genius is something like the pie in the nursery song, in which the four and twenty blackbirds are baked. When the pie is opened, the birds begin to sing. Hereupon three fourths of the company run away in a fright; and then after a time, feeling ashamed, they would fain excuse themselves by declaring, the pie stank so, they could not sit near it. Those who stay behind, the men of taste and epicures, say one to another, We came here to eat. What business have birds, after they have been baked, to be alive and singing? This will never do. We must put a stop to so dangerous an innovation: for who will send a pie to an oven, if the birds come to life there? We must stand up to defend the rights of all the ovens in England. Let us have dead birds..dead birds for our money. So each sticks his fork into a bird, and hacks and mangles it a while, and then holds it up and cries, Who will dare assert that there is any music in this bird's song?

Actors start off in commercials playing someone else, but when they've really made it they return to commercials playing themselves.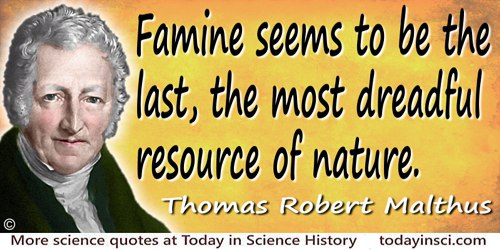 Famine seems to be the last, the most dreadful resource of nature. The power of population is so superior to the power in the earth to produce subsistence for man, that premature death must in some shape or other visit the human race. The vices of mankind are active and able ministers of depopulation. They are the precursors in the great army of destruction; and often finish the dreadful work themselves. But should they fail in this war of extermination, sickly seasons, epidemics, pestilence, and plague, advance in terrific array, and sweep off their thousands and ten thousands. Should success be still incomplete, gigantic inevitable famine stalks in the rear, and with one mighty blow, levels the population with the food of the world.

Only the insane take themselves seriously.