Pestilence Quotes (10 quotes)
A study of Disease—of Pestilences methodically prepared and deliberately launched upon man and beast—is certainly being pursue in the laboratories of more than one great country. Blight to destroy crops, Anthrax to slay horses and cattle, Plague to poison not armies but whole districts—such are the lines along which military science is remorselessly advancing.

During seasons of great pestilence men have often believed the prophecies of crazed fanatics, that the end of the world was come. Credulity is always greatest in times of calamity. Prophecies of all sorts are rife on such occasions, and are readily believed, whether for good or evil.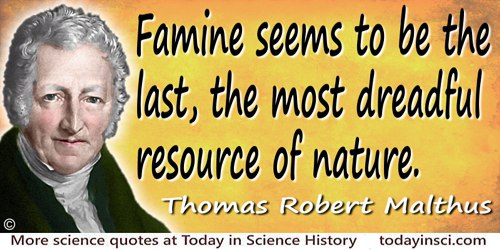 Famine seems to be the last, the most dreadful resource of nature. The power of population is so superior to the power in the earth to produce subsistence for man, that premature death must in some shape or other visit the human race. The vices of mankind are active and able ministers of depopulation. They are the precursors in the great army of destruction; and often finish the dreadful work themselves. But should they fail in this war of extermination, sickly seasons, epidemics, pestilence, and plague, advance in terrific array, and sweep off their thousands and ten thousands. Should success be still incomplete, gigantic inevitable famine stalks in the rear, and with one mighty blow, levels the population with the food of the world.

In the end, poverty, putridity and pestilence; work, wealth and worry; health, happiness and hell, all simmer down into village problems.

It goes so heavily with my disposition that this goodly frame, the earth, seems to me a sterile promontory. This most excellent canopy the air, look you, this brave o'erhanging, this majestic roof fretted with golden fire—why, it appears no other thing to me than a foul and pestilent congregation of vapours. What a piece of work is a man. How noble in reason, how infinite in faculty, in form and moving, how express and admirable, in action, how like an angel! in apprehension, how like a god—the beauty of the world, the paragon of animals! And yet to me, what is this quintessence of dust? Man delights not me—no, nor woman neither, though by your smiling you seem to say so.

Statistics has been the handmaid of science, and has poured a flood of light upon the dark questions of famine and pestilence, ignorance and crime, disease and death.

The Pestilence can never breed the Small-Pox, nor the Small-Pox the Measles, nor they the Crystals or Chicken-Pox, any more than an Hen can breed a Duck, a Wolf a Sheep, or a Thistle Figs; and consequently, one Sort cannot be a Preservative against any other Sort.

The science of medicine is a barbarous jargon and the effects of our medicine on the human system are in the highest degree uncertain, except indeed that they have already destroyed more lives than war, pestilence, and famine combined.

The view of the Earth from the Moon fascinated me - a small disk, 240,000 miles away… Raging nationalistic interests, famines, wars, pestilence don't show from that distance.

We need go back only a few centuries to find the great mass of people depending on religion for the satisfaction of practically all their wishes. From rain out of the sky to good health on earth, they sought their desires at the altars of their gods. Whether they wanted large families, good crops, freedom from pestilence, or peace of mind, they conceived themselves as dependent on the favor of heaven. Then science came with its alternative, competitive method of getting what we want. That is science's most important attribute. As an intellectual influence it is powerful enough, but as a practical way of achieving man's desires it is overwhelming.