Epidemic Quotes (7 quotes)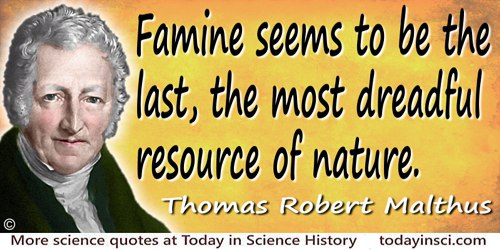 Famine seems to be the last, the most dreadful resource of nature. The power of population is so superior to the power in the earth to produce subsistence for man, that premature death must in some shape or other visit the human race. The vices of mankind are active and able ministers of depopulation. They are the precursors in the great army of destruction; and often finish the dreadful work themselves. But should they fail in this war of extermination, sickly seasons, epidemics, pestilence, and plague, advance in terrific array, and sweep off their thousands and ten thousands. Should success be still incomplete, gigantic inevitable famine stalks in the rear, and with one mighty blow, levels the population with the food of the world.

Now having (I know not by what accident) engaged my thoughts upon the Bills of Mortality, and so far succeeded therein, as to have reduced several great confused Volumes into a few perspicuous Tables, and abridged such Observations as naturally flowed from them, into a few succinct Paragraphs, without any long Series of multiloquious Deductions, I have presumed to sacrifice these my small, but first publish'd, Labours unto your Lordship, as unto whose benign acceptance of some other of my Papers even the birth of these is due; hoping (if I may without vanity say it) they may be of as much use to persons in your Lordships place, as they are of none to me, which is no more than fairest Diamonds are to the Journeymen Jeweller that works them, or the poor Labourer that first digg'd them from Earth.
[An early account demonstrating the value of statistical analysis of public health data. Graunt lived in London at the time of the plague epidemics.]

Now, it may be stretching an analogy to compare epidemics of cholera—caused by a known agent—with that epidemic of violent crime which is destroying our cities. It is unlikely that our social problems can be traced to a single, clearly defined cause in the sense that a bacterial disease is 'caused' by a microbe. But, I daresay, social science is about as advanced in the late twentieth century as bacteriological science was in the mid nineteenth century. Our forerunners knew something about cholera; they sensed that its spread was associated with misdirected sewage, filth, and the influx of alien poor into crowded, urban tenements. And we know something about street crime; nowhere has it been reported that a member of the New York Stock Exchange has robbed ... at the point of a gun. Indeed, I am naively confident that an enlightened social scientist of the next century will be able to point out that we had available to us at least some of the clues to the cause of urban crime.

Scientific training gives its votaries freedom from the impositions of modern quackery. Those who know nothing of the laws and processes of Nature fall an easy prey to quacks and impostors. Perfectionism in the realm of religion; a score of frauds in the realm of medicine, as electric shoe soles, hair brushes and belts, electropises, oxydonors, insulating bed casters, and the like; Christian science, in the presence of whose unspeakable stillness and self-stultifying idealism a wise man knows not whether to laugh or cry; Prof. Weltmer's magnetic treatment of disease; divine healing and miracle working by long-haired peripatetics—these and a score of other contagious fads and rank impostures find their followers among those who have no scientific training. Among their deluded victims are thousands of men and women of high character, undoubted piety, good intentions, charitable impulses and literary culture, but none trained to scientific research. Vaccinate the general public with scientific training and these epidemics will become a thing of the past.

The fact is that in creating towns, men create the materials for an immense hotbed of disease, and this effect can only be neutralised by extraordinary artificial precautions.

The steam-engine in its manifold applications, the crime-decreasing gas-lamp, the lightning conductor, the electric telegraph, the law of storms and rules for the mariner's guidance in them, the power of rendering surgical operations painless, the measures for preserving public health, and for preventing or mitigating epidemics,—such are among the more important practical results of pure scientific research, with which mankind have been blessed and States enriched.

The year 1918 was the time of the great influenza epidemic, the schools were closed. And this was when, as far as I can remember, the first explicitly strong interest in astronomy developed ... I took a piece of bamboo, and sawed a piece in the middle of each end, to put a couple of spectacle lenses in it. Well, the Pleiades looked nice because the stars were big. I thought I was looking at stars magnified. Well, they weren't. It was a little thing with two lenses at random on each end, and all you got were extra focal images, big things, but I thought I was looking at star surfaces. I was 12 years old.