Extermination Quotes (11 quotes)
A grove of giant redwoods or sequoias should be kept just as we keep a great or beautiful cathedral. The extermination of the passenger pigeon meant that mankind was just so much poorer; exactly as in the case of the destruction of the cathedral at Rheims. And to lose the chance to see frigate-birds soaring in circles above the storm, or a file of pelicans winging their way homeward across the crimson afterglow of the sunset, or a myriad terns flashing in the bright light of midday as they hover in a shifting maze above the beach—why, the loss is like the loss of a gallery of the masterpieces of the artists of old time.

During cycles long anterior to the creation of the human race, and while the surface of the globe was passing from one condition to another, whole races of animals–each group adapted to the physical conditions in which they lived–were successively created and exterminated.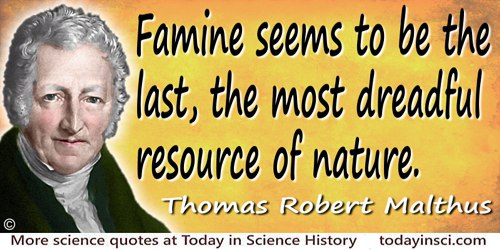 Famine seems to be the last, the most dreadful resource of nature. The power of population is so superior to the power in the earth to produce subsistence for man, that premature death must in some shape or other visit the human race. The vices of mankind are active and able ministers of depopulation. They are the precursors in the great army of destruction; and often finish the dreadful work themselves. But should they fail in this war of extermination, sickly seasons, epidemics, pestilence, and plague, advance in terrific array, and sweep off their thousands and ten thousands. Should success be still incomplete, gigantic inevitable famine stalks in the rear, and with one mighty blow, levels the population with the food of the world.

For nearly twelve years I travelled and lived mostly among uncivilised or completely savage races, and I became convinced that they all possessed good qualities, some of them in a very remarkable degree, and that in all the great characteristics of humanity they are wonderfully like ourselves. Some, indeed, among the brown Polynesians especially, are declared by numerous independent and unprejudiced observers, to be physically, mentally, and intellectually our equals, if not our superiors; and it has always seemed to me one of the disgraces of our civilisation that these fine people have not in a single case been protected from contamination by the vices and follies of our more degraded classes, and allowed to develope their own social and political organislll under the advice of some of our best and wisest men and the protection of our world-wide power. That would have been indeed a worthy trophy of our civilisation. What we have actually done, and left undone, resulting in the degradation and lingering extermination of so fine a people, is one of the most pathetic of its tragedies.

In our concern for the whooping crane we are at once symbolizing and concealing a far deeper anxiety—namely, the prospective total extermination of all species.

It is not always the most brilliant speculations nor the choice of the most exotic materials that is most profitable. I prefer Monsieur de Reaumur busy exterminating moths by means of an oily fleece; or increasing fowl production by making them hatch without the help of their mothers, than Monsieur Bemouilli absorbed in algebra, or Monsieur Leibniz calculating the various advantages and disadvantages of the possible worlds.

Science, by itself, cannot supply us with an ethic. It can show us how to achieve a given end, and it may show us that some ends cannot be achieved. But among ends that can be achieved our choice must be decided by other than purely scientific considerations. If a man were to say, "I hate the human race, and I think it would be a good thing if it were exterminated," we could say, "Well, my dear sir, let us begin the process with you." But this is hardly argument, and no amount of science could prove such a man mistaken.

To find the cause of our ills in something outside ourselves, something specific that can be spotted and eliminated, is a diagnosis that cannot fail to appeal. To say that the cause of our troubles is not in us but in the Jews, and pass immediately to the extermination of the Jews, is a prescription likely to find a wide acceptance.

Until we consider animal life to be worthy of the consideration and reverence we bestow upon old books and pictures and historic monuments, there will always be the animal refugee living a precarious life on the edge of extermination, dependent for existence on the charity of a few human beings.

What is the use of this history, what the use of all this minute research? I well know that it will not produce a fall in the price of pepper, a rise in that of crates of rotten cabbages, or other serious events of this kind, which cause fleets to be manned and set people face to face intent upon one another's extermination. The insect does not aim at so much glory. It confines itself to showing us life in the inexhaustible variety of its manifestations; it helps us to decipher in some small measure the obscurest book of all, the book of ourselves.

Why then be concerned about the conservation of wildlife when for all practical purposes we would be much better off if humans and their domestic animals and pets were the only living creatures on the face of the earth? There is no obvious and demolishing answer to this rather doubtful logic although in practice the destruction of all wild animals would certainly bring devastating changes to our existence on this planet as we know it today...The trouble is that everything in nature is completely interdependent. Tinker with one part of it and the repercussions ripple out in all directions...Wildlife - and that includes everything from microbes to blue whales and from a fungus to a redwood tree - has been so much part of life on the earth that we are inclined to take its continued existence for granted...Yet the wildlife of the world is disappearing, not because of a malicious and deliberate policy of slaughter and extermination, but simply because of a general and widespread ignorance and neglect.