Heritage Quotes (11 quotes)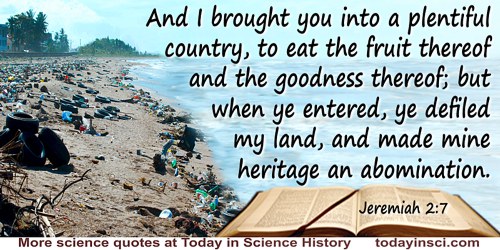 And I brought you into a plentiful country, to eat the fruit thereof and the goodness thereof; but when ye entered, ye defiled my land, and made mine heritage an abomination.

Creation science has not entered the curriculum for a reason so simple and so basic that we often forget to mention it: because it is false, and because good teachers understand why it is false. What could be more destructive of that most fragile yet most precious commodity in our entire intellectual heritage—good teaching—than a bill forcing our honorable teachers to sully their sacred trust by granting equal treatment to a doctrine not only known to be false, but calculated to undermine any general understanding of science as an enterprise?.

I am by heritage a Jew, by citizenship a Swiss, and by makeup a human being, and only a human being, without any special attachment to any state or national entity whatsoever.

Scientific thought is the common heritage of mankind.

The frontiers of science are separated now by long years of study, by specialized vocabularies, arts, techniques, and knowledge from the common heritage even of a most civilized society; and anyone working at the frontier of such science is in that sense a very long way from home, a long way too from the practical arts that were its matrix and origin, as indeed they were of what we today call art.

The human soul is like a bird that is born in a cage. Nothing can deprive it of its natural longings, or obliterate the mysterious remembrance of its heritage.

The skein of human continuity must often become this tenuous across the centuries (hanging by a thread, in the old cliche'), but the circle remains unbroken if I can touch the ink of Lavoisier's own name, written by his own hand. A candle of light, nurtured by the oxygen of his greatest discovery, never burns out if we cherish the intellectual heritage of such unfractured filiation across the ages. We may also wish to contemplate the genuine physical thread of nucleic acid that ties each of us to the common bacterial ancestor of all living creatures, born on Lavoisier's ancienne terre more than 3.5 billion years ago– and never since disrupted, not for one moment, not for one generation. Such a legacy must be worth preserving from all the guillotines of our folly.

The university is the archive of the Western mind, it's the keeper of the Western culture, ... the guardian of our heritage, the teacher of our teachers, ... the dwelling place of the free mind.

We find that one of the most rewarding features of being scientists these days ... is the common bond which the search for truth provides to scholars of many tongues and many heritages. In the long run, that spirit will inevitably have a constructive effect on the benefits which man can derive from knowledge of himself and his environment.

We live an age of science and of abounding accumulation of material things. These did not create the Declaration. Our Declaration created them. … If we are to maintain the great heritage which has been bequeathed to us, we must be like-minded as the fathers who created it.

We must somehow keep the dreams of space exploration alive, for in the long run they will prove to be of far more importance to the human race than the attainment of material benefits. Like Darwin, we have set sail upon an ocean: the cosmic sea of the Universe. There can be no turning back. To do so could well prove to be a guarantee of extinction. When a nation, or a race or a planet turns its back on the future, to concentrate on the present, it cannot see what lies ahead. It can neither plan nor prepare for the future, and thus discards the vital opportunity for determining its evolutionary heritage and perhaps its survival.