Nurture Quotes (14 quotes)
Nature and nurture are an inseparable blend of influences that work together to produce our behavior. A growing band of researchers are demonstrating that the bedrock of behaviors that make up the concerns of everyday life, such as sex, language, cooperation, and violence have been carved out by evolution over the eons, and this Stone Age legacy continues to influence modern life today.

For Linnaeus, Homo sapiens was both special and not special ... Special and not special have come to mean nonbiological and biological, or nurture and nature. These later polarizations are nonsensical. Humans are animals and everything we do lies within our biological potential ... the statement that humans are animals does not imply that our specific patterns of behavior and social arrangements are in any way directly determined by our genes. Potentiality and determination are different concepts.

If the Weismann idea triumphs, it will be in a sense a triumph of fatalism; for, according to it, while we may indefinitely improve the forces of our education and surroundings, and this civilizing nurture will improve the individuals of each generation, its actual effects will not be cumulative as regards the race itself, but only as regards the environment of the race; each new generation must start de novo, receiving no increment of the moral and intellectual advance made during the lifetime of its predecessors. It would follow that one deep, almost instinctive motive for a higher life would be removed if the race were only superficially benefited by its nurture, and the only possible channel of actual improvement were in the selection of the fittest chains of race plasma.

If we can combine our knowledge of science with the wisdom of wildness, if we can nurture civilization through roots in the primitive, man's potentialities appear to be unbounded, Through this evolving awareness, and his awareness of that awareness, he can emerge with the miraculous—to which we can attach what better name than "God"? And in this merging, as long sensed by intuition but still only vaguely perceived by rationality, experience may travel without need for accompanying life.

In fact, the thickness of the Earth's atmosphere, compared with the size of the Earth, is in about the same ratio as the thickness of a coat of shellac on a schoolroom globe is to the diameter of the globe. That's the air that nurtures us and almost all other life on Earth, that protects us from deadly ultraviolet light from the sun, that through the greenhouse effect brings the surface temperature above the freezing point. (Without the greenhouse effect, the entire Earth would plunge below the freezing point of water and we'd all be dead.) Now that atmosphere, so thin and fragile, is under assault by our technology. We are pumping all kinds of stuff into it. You know about the concern that chlorofluorocarbons are depleting the ozone layer; and that carbon dioxide and methane and other greenhouse gases are producing global warming, a steady trend amidst fluctuations produced by volcanic eruptions and other sources. Who knows what other challenges we are posing to this vulnerable layer of air that we haven't been wise enough to foresee?

No politics, no committees, no reports, no referees, no interviews – just highly motivated people picked by a few men of good judgment.
[Describing the compelling ideas of Max Perutz on how best to nurture research.]

The aim of education should be to preserve and nurture the yearning for learning that a child is born with. Grades and gold stars destroy this yearning for learning.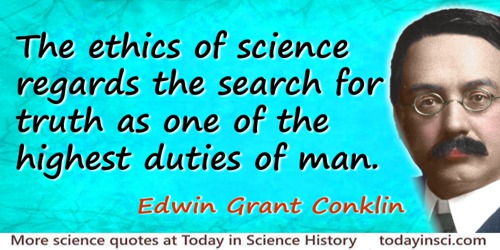 The ethics of science regards the search for truth as one of the highest duties of man; it regards noble human character as the finest product of evolution; it considers the service of all mankind as the universal good; it teaches that human nature and humane nurture may be improved, that reason may replace unreason, cooperation supplement competition, and the progress of the human race through future ages be promoted by intelligence and goodwill.

The fact that this chain of life existed [at volcanic vents on the seafloor] in the black cold of the deep sea and was utterly independent of sunlight—previously thought to be the font of all Earth's life—has startling ramifications. If life could flourish there, nurtured by a complex chemical process based on geothermal heat, then life could exist under similar conditions on planets far removed from the nurturing light of our parent star, the Sun.

The phrase 'nature and nurture' is a convenient jingle of words, for it separates under two distinct heads the innumerable elements of which personality is composed. Nature is all that a man brings with himself into the world; nurture is every influence without that affects him after his birth.

The skein of human continuity must often become this tenuous across the centuries (hanging by a thread, in the old cliche'), but the circle remains unbroken if I can touch the ink of Lavoisier's own name, written by his own hand. A candle of light, nurtured by the oxygen of his greatest discovery, never burns out if we cherish the intellectual heritage of such unfractured filiation across the ages. We may also wish to contemplate the genuine physical thread of nucleic acid that ties each of us to the common bacterial ancestor of all living creatures, born on Lavoisier's ancienne terre more than 3.5 billion years ago– and never since disrupted, not for one moment, not for one generation. Such a legacy must be worth preserving from all the guillotines of our folly.

The solution, as all thoughtful people recognize, must lie in properly melding the themes of inborn predisposition and shaping through life's experiences. This fruitful joining cannot take the false form of percentages adding to 100–as in 'intelligence is 80 percent nature and 20 percent nurture,' or 'homosexuality is 50 percent inborn and 50 percent learned,' and a hundred other harmful statements in this foolish format. When two ends of such a spectrum are commingled, the result is not a separable amalgam (like shuffling two decks of cards with different backs), but an entirely new and higher entity that cannot be decomposed (just as adults cannot be separated into maternal and paternal contributions to their totality).

The study of the reactivity of metal ion complexes—the birth of which I have witnessed and which I have helped to nurture … is still in its infancy; it too is flourishing.

We are the only species that can destroy the Earth or take care of it and nurture all that live on this very special planet. I'm urging you to look on these things. For whatever reason, this planet was built specifically for us. Working on this planet is an absolute moral code. … Let's go out and do what we were put on Earth to do.