Goodwill Quotes (6 quotes)
[1665-06-11] I out of doors a little to show forsooth my new suit, and back again; and in going, saw poor Dr Burnets door shut. But he hath, I hear, gained goodwill among his neighbours; for he discovered it himself first, and caused himself to be shut up of his own accord - which was very handsome.

A man who speaks out honestly and fearlessly that which he knows, and that which he believes, will always enlist the good will and the respect, however much he may fail in winning the assent, of his fellow men.

As knowledge advances, science ceases to scoff at religion; and religion ceases to frown on science. The hour of mockery by the one, and of reproof by the other, is passing away. Henceforth, they will dwell together in unity and goodwill. They will mutually illustrate the wisdom, power, and grace of God. Science will adorn and enrich religion; and religion will ennoble and sanctify science.

Let us hope that the advent of a successful flying machine, now only dimly foreseen and nevertheless thought to be possible, will bring nothing but good into the world; that it shall abridge distance, make all parts of the globe accessible, bring men into closer relation with each other, advance civilization, and hasten the promised era in which there shall be nothing but peace and goodwill among all men.

The crown and glory of life is Character. It is the noblest possession of a man, constituting a rank in itself, and an estate in the general goodwill; dignifying every station, and exalting every position in society. It exercises a greater power than wealth, and secures all the honour without the jealousies of fame. It carries with it an influence which always tells; for it is the result of proved honour, rectitude, and consistency—qualities which, perhaps more than any other, command the general confidence and respect of mankind.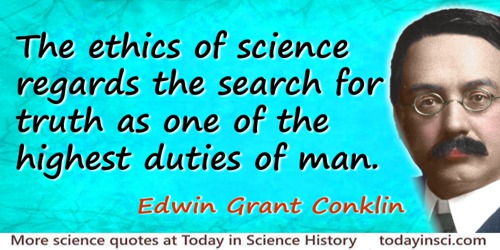 The ethics of science regards the search for truth as one of the highest duties of man; it regards noble human character as the finest product of evolution; it considers the service of all mankind as the universal good; it teaches that human nature and humane nurture may be improved, that reason may replace unreason, cooperation supplement competition, and the progress of the human race through future ages be promoted by intelligence and goodwill.