(source)

Samuel Pepys

(23 Feb 1633 - 16 May 1703)




Science Quotes by Samuel Pepys
(22 quotes)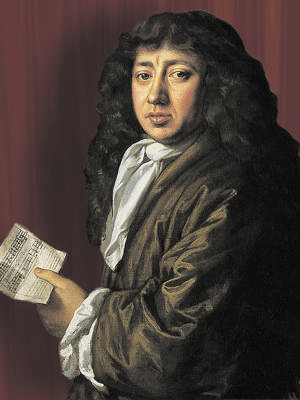 Samuel Pepys portrait by John Hayls
painted about the time of the Great Fire
(source)
[1665-04-30] ...Great fear of the sicknesses here in the City, it being said that two or three houses are already shut up. God preserve us all.

— Samuel Pepys

[1665-06-07] ...This day, much against my will, I did in Drury Lane see two or three houses marked with a red cross upon the doors, and 'Lord have mercy upon us' writ there - which was a sad sight to me, being the first of that kind that to my remembrance I ever saw. It put me into an ill conception of myself and my smell, so that I was forced to buy some roll-tobacco to smell to and chaw - which took away the apprehension.

— Samuel Pepys

[1665-06-10] ...In the evening home to supper, and there to my great trouble hear that the plague is come into the City (though it hath these three or four weeks since its beginning been wholly out of the City); but where it begin but in my good friend and neighbour's, Dr Burnett in Fanchurch Street - which in both points troubles me mightily. To the office to finish my letters, and then home to bed, being troubled at the sickness ... and particularly how to put my things and estate in order, in case it should please God to call me away.

— Samuel Pepys

[1665-06-11] I out of doors a little to show forsooth my new suit, and back again; and in going, saw poor Dr Burnets door shut. But he hath, I hear, gained goodwill among his neighbours; for he discovered it himself first, and caused himself to be shut up of his own accord - which was very handsome.

— Samuel Pepys

[1665-06-15] ...The town grows very sickly, and people to be afeared of it - there dying this last week of the plague 112, from 43 the week before - whereof, one in Fanchurch-street and one in Broadstreete by the Treasurer's office.

— Samuel Pepys

[1665-06-17] It stroke me very deep this afternoon, going with a hackney-coach from my Lord Treasurer's down Holborne - the coachman I found to drive easily and easily; at last stood still, and came down hardly able to stand; and told me that he was suddenly stroke very sick and almost blind. So I light and went into another coach, with a sad heart for the poor man and trouble for myself, lest he should have been stroke with the plague - being at that end of the town that I took him up. But God have mercy upon us all.

— Samuel Pepys

[1665-06-20] ...This day I informed myself that there died four or five at Westminster of the Plague, in one alley in several houses upon Sunday last - Bell Alley, over against the Palace gate. yet people do think that the number will be fewer in the town then it was last week. ...

— Samuel Pepys

[1665-07-22] I met this noon with Dr Burnett, who told me ... that his servant died of a Bubo on his right groine, and two Spots on his right thigh, which is the plague.

— Samuel Pepys

[1665-07-31] ...Thus we end this month, as I said, after the greatest glut of content that ever I had; only, under some difficulty because of the plague, which grows mightily upon us, the last week being about 1700 or 1800 of the plague. ...

— Samuel Pepys

[1665-08-12] The people die so, that now it seems they are fain to carry the dead to be buried by daylight, the nights not sufficing to do it in. And my Lord Mayor commands people to be inside by nine at night that the sick may leave their domestic prison for air and exercise.

— Samuel Pepys

[1665-08-16] ...Hence to the Exchange, which I have not been a great while. But Lord, how sad a sight it is to see the streets empty of people, and very few upon the Change - jealous of every door that one sees shut up, lest it should be the plague - and about us, two shops in three, if not more, generally shut up. ... It was dark before I could get home; and so land at church-yard stairs, where to my great trouble I met a dead Corps, of the plague, in the narrow ally, just bringing down a little pair of stairs - but I thank God I was not much disturbed at it. However, I shall beware of being late abroad again.

— Samuel Pepys

[1665-08-22] I went on a walk to Greenwich, on my way seeing a coffin with a dead body in it, dead of plague. It lay in an open yeard. ... It was carried there last night, and the parish has not told anyone to bury it. This disease makes us more cruel to one another than we are to dogs.

— Samuel Pepys

[1665-08-28] But now, how few people I see, and those walking like people that have taken leave of the world.... I to the Exchange, and I think there was not 50 people upon it and but few more like to be, as they told me, Sir G Smith and others. Thus I think to take Adieu today of London streets ....

— Samuel Pepys

[1665-08-31] Up, and after putting several things in order to my removal to Woolwich, the plague having a great increase this week beyond all expectation, of almost 2000 - making the general Bill 7000, odd 100 and the plague above 6000 .... Thus this month ends, with great sadness upon the public through the greateness of the plague, everywhere through the Kingdom almost. Every day sadder and sadder news of its increase. In the City died this week 7496; and all of them, 6102 of the plague. But it is feared that the true number of the dead this week is near 10000 - partly from the poor that cannot be taken notice of through the greatness of the number, and partly from the Quakers and others that will not have any bell ring for them. As to myself, I am very well; only, in fear of the plague, and as much of an Ague, by being forced to go early and late to Woolwich, and my family to lie there continually.

— Samuel Pepys

[1665-09-03] Up, and put on my coloured suit on, very fine, and my new periwig, bought a good while since, but durst not wear, because the plague was in westminster when I bought it; and it is a wonder what will be the fashion after the plague is done as to periwigs, for nobody will dare to buy any haire for fear of the infection - that it had been cut off of heads of people dead of the plague. ... but Lord, to consider the madness of people of the town, who will (because they are forbid) come in crowds along with the dead corps to see them buried. ...

— Samuel Pepys

[1665-09-14] ...my finding that although the Bill [total of dead] in general is abated, yet the City within the walls is encreasd and likely to continue so (and is close to our house there) - my meeting dead corps's of the plague, carried to be buried close to me at noonday through the City in Fanchurch-street - to see a person sick of the sores carried close by me by Grace-church in a hackney-coach - my finding the Angell tavern at the lower end of Tower-hill shut up; and more then that, the alehouse at the Tower-stairs; and more then that, that the person was then dying of the plague when I was last there, a little while ago at night, to write a short letter there, and I overheard the mistress of the house sadly saying to her husband somebody was very ill, but did not think it was of the plague - to hear that poor Payne my waterman hath buried a child and is dying himself - to hear that a labourer I sent but the other day to Dagenhams to know how they did there is dead of the plague and that one of my own watermen, that carried me daily, fell sick as soon as he had landed me on Friday morning last, when I had been all night upon the water ... is now dead of the plague - to hear ... that Mr Sidny Mountagu is sick of a desperate fever at my Lady Carteret's at Scott's hall - to hear that Mr. Lewes hath another daughter sick - and lastly, that both my servants, W Hewers and Tom Edwards, have lost their fathers, both in St. Sepulcher's parish, of the plague this week - doth put me into great apprehensions of melancholy, and with good reason. But I put off the thoughts of sadness as much as I can, and the rather to keep my wife in good heart and family also.

— Samuel Pepys

[1665-10-16] But Lord, how empty the streets are, and melancholy, so many poor sick people in the streets, full of sores, and so many sad stories overheard as I walk, everybody talking of this dead, and that man sick, and so many in this place, and so many in that. And they tell me that in Westminster there is never a physitian, and but one apothecary left, all being dead - but that there are great hopes of a great decrease this week. God send it.

— Samuel Pepys

[1665-11-09] ...The Bill of Mortality, to all our griefs, is encreased 399 this week, and the encrease general through the whole city and suburbs, which makes us all sad.

— Samuel Pepys

[1665-11-22] I heard this day that the plague is come very low; that is 600 and odd - and great hopes of a further decrease, because of this day's being a very exceeding hard frost - and continues freezing. ...

— Samuel Pepys

[1665-12-31] Thus ends this year ... It is true we have gone through great melancholy because of the great plague, and I put to great charges by it, by keeping my family long at Woolwich, and myself and another part of my family, my clerks, at my charge at Greenwich ... But now the plague is abated almost to nothing ... But many of such as I know very well, dead. Yet to our great joy, the town fills apace, and shops begin to open again. Pray God continue the plague's decrease - for that keeps the Court away from the place of business, and so all goes to wrack as to public matters, they at this distance not thinking of it.

— Samuel Pepys

Spong and I had also several fine discourses upon the globes this afternoon, particularly why the fixed stars do not rise and set at the same hour all the year long, which he could not demonstrate nor I neither.

— Samuel Pepys

We did also at night see Jupiter and his girdle and satellites, very fine, with my twelve-foot glass, but could not Saturn, he being very dark.

— Samuel Pepys

See also:
23 Feb - short biography, births, deaths and events on date of Pepys's birth.