Fixed Quotes (11 quotes)
Every science has for its basis a system of principles as fixed and unalterable as those by which the universe is regulated and governed. Man cannot make principles; he can only discover them.

Hast thou ever raised thy mind to the consideration of
existence
, in and by itself, as the mere act of existing?
Hast thou ever said to thyself thoughtfully it is! heedless, in that moment, whether it were a man before thee, or a flower, or a grain of sand;—without reference, in short, to this or that particular mode or form of existence? If thou hast, indeed, attained to this, thou wilt have felt the presence of a mystery, which must have fixed thy spirit in awe and wonder.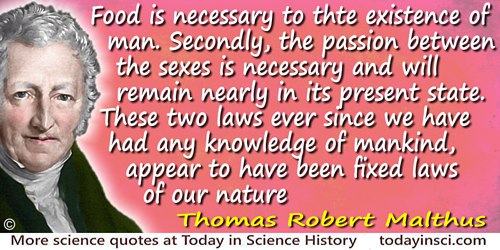 I think I may fairly make two postulata. First, That food is necessary to the existence of man. Secondly, That the passion between the sexes is necessary and will remain nearly in its present state. These two laws ever since we have had any knowledge of mankind, appear to have been fixed laws of our nature; and, as we have not hitherto seen any alteration in them, we have no right to conclude that they will ever cease to be what they are now, without an immediate act of power in that Being who first arranged the system of the universe; and for the advantage of his creatures, still executes, according to fixed laws, all its various operations.

It has often been said that, to make discoveries, one must be ignorant. This opinion, mistaken in itself, nevertheless conceals a truth. It means that it is better to know nothing than to keep in mind fixed ideas based on theories whose confirmation we constantly seek, neglecting meanwhile everything that fails to agree with them.

Preconceived ideas are like searchlights which illumine the path of experimenter and serve him as a guide to interrogate nature. They become a danger only if he transforms them into fixed ideas – this is why I should like to see these profound words inscribed on the threshold of all the temples of science: "The greatest derangement of the mind is to believe in something because one wishes it to be so."

Spong and I had also several fine discourses upon the globes this afternoon, particularly why the fixed stars do not rise and set at the same hour all the year long, which he could not demonstrate nor I neither.

The great object of all knowledge is to enlarge and purify the soul, to fill the mind with noble contemplations, to furnish a refined pleasure, and to lead our feeble reason from the works of nature up to its great Author and Sustainer. Considering this as the ultimate end of science, no branch of it can surely claim precedence of Astronomy. No other science furnishes such a palpable embodiment of the abstractions which lie at the foundation of our intellectual system; the great ideas of time, and space, and extension, and magnitude, and number, and motion, and power. How grand the conception of the ages on ages required for several of the secular equations of the solar system; of distances from which the light of a fixed star would not reach us in twenty millions of years, of magnitudes compared with which the earth is but a foot-ball; of starry hosts—suns like our own—numberless as the sands on the shore; of worlds and systems shooting through the infinite spaces.

The Greeks made Space the subject-matter of a science of supreme simplicity and certainty. Out of it grew, in the mind of classical antiquity, the idea of pure science. Geometry became one of the most powerful expressions of that sovereignty of the intellect that inspired the thought of those times. At a later epoch, when the intellectual despotism of the Church, which had been maintained through the Middle Ages, had crumbled, and a wave of scepticism threatened to sweep away all that had seemed most fixed, those who believed in Truth clung to Geometry as to a rock, and it was the highest ideal of every scientist to carry on his science 'more geometrico.'

The most fatal illusion is the settled point of view. Since life is growth and motion, a fixed point of view kills anybody who has one.

The only distinct meaning of the word "natural" is stated, fixed, or settled; since what is natural as much requires and presupposes an intelligent agent to render it so, i.e. to effect it continually or at stated times, as what is supernatural or miraculous does to effect it for once.

When the difficulty of a problem lies only in finding out what follows from certain fixed premises, mathematical methods furnish invaluable wings for flying over intermediate obstructions.