Arranged Quotes (4 quotes)
[With] our critical faculties in decline, unable to distinguish between what feels good and what's true, we slide, almost without noticing, back into superstition. … We have also arranged things so that almost no one understands science and technology. We might get away with it for a while, but eventually this combustible mixture of ignorance and power is going to blow up in our faces.

All that passes for knowledge can be arranged in a hierarchy of degrees of certainty, with arithmetic and the facts of perception at the top.

Geometry enlightens the intellect and sets one's mind right. All of its proofs are very clear and orderly. It is hardly possible for errors to enter into geometrical reasoning, because it is well arranged and orderly. Thus, the mind that constantly applies itself to geometry is not likely to fall into error. In this convenient way, the person who knows geometry acquires intelligence.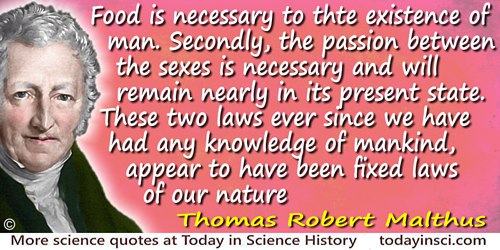 I think I may fairly make two postulata. First, That food is necessary to the existence of man. Secondly, That the passion between the sexes is necessary and will remain nearly in its present state. These two laws ever since we have had any knowledge of mankind, appear to have been fixed laws of our nature; and, as we have not hitherto seen any alteration in them, we have no right to conclude that they will ever cease to be what they are now, without an immediate act of power in that Being who first arranged the system of the universe; and for the advantage of his creatures, still executes, according to fixed laws, all its various operations.