Eureka Quotes (13 quotes)
[I doubt that in today's world, I and Francis Crick would ever have had our Eureka moment.] I recently went to my staircase at Clare College, Cambridge and there were women there! he said, with an enormous measure of retrospective sexual frustration. There have been a lot of convincing studies recently about the loss of productivity in the Western male. It may be that entertainment culture now is so engaging that it keeps people satisfied. We didn't have that. Science was much more fun than listening to the radio. When you are 16 or 17 and in that inherently semi-lonely period when you are deciding whether to be an intellectual, many now don't bother.
(Response when asked how he thought the climate of scientific research had changed since he made his discovery of the structure of life in 1953.)

[King Hiero II] requested Archimedes to consider [whether a crown was pure gold or alloyed with silver]. The latter, while the case was still on his mind, happened to go to the bath, and on getting into a tub observed that the more his body sank into it the more water ran out over the tub. As this pointed out the way to explain the case in question, without a moment's delay, and transported with joy, he jumped out of the tub and rushed home naked, crying with a loud voice that he had found what he was seeking; for as he ran he shouted repeatedly in Greek, "Eὕρηκα, εὕρηκα."

Eureka! Eureka!
I have found it!

Archimedes said Eureka,
Cos in English he weren't too aversed in,
when he discovered that the volume of a body in the bath,
is equal to the stuff it is immersed in,
That is the law of displacement,
Thats why ships don't sink,
Its a shame he weren't around in 1912,
The Titanic would have made him think.

Archimedes, who combined a genius for mathematics with a physical insight, must rank with Newton, who lived nearly two thousand years later, as one of the founders of mathematical physics. … The day (when having discovered his famous principle of hydrostatics he ran through the streets shouting Eureka! Eureka!) ought to be celebrated as the birthday of mathematical physics; the science came of age when Newton sat in his orchard.

ARCHIMEDES. On hearing his name, shout "Eureka!" Or else: "Give me a fulcrum and I will move the world". There is also Archimedes' screw, but you are not expected to know what that is.

He [Lord Bacon] appears to have been utterly ignorant of the discoveries which had just been made by Kepler's calculations … he does not say a word about Napier's Logarithms, which had been published only nine years before and reprinted more than once in the interval. He complained that no considerable advance had been made in Geometry beyond Euclid, without taking any notice of what had been done by Archimedes and Apollonius. He saw the importance of determining accurately the specific gravities of different substances, and himself attempted to form a table of them by a rude process of his own, without knowing of the more scientific though still imperfect methods previously employed by Archimedes, Ghetaldus and Porta. He speaks of the εὕρηκα of Archimedes in a manner which implies that he did not clearly appreciate either the problem to be solved or the principles upon which the solution depended. In reviewing the progress of Mechanics, he makes no mention either of Archimedes, or Stevinus, Galileo, Guldinus, or Ghetaldus. He makes no allusion to the theory of Equilibrium. He observes that a ball of one pound weight will fall nearly as fast through the air as a ball of two, without alluding to the theory of acceleration of falling bodies, which had been made known by Galileo more than thirty years before. He proposed an inquiry with regard to the lever,—namely, whether in a balance with arms of different length but equal weight the distance from the fulcrum has any effect upon the inclination—though the theory of the lever was as well understood in his own time as it is now. … He speaks of the poles of the earth as fixed, in a manner which seems to imply that he was not acquainted with the precession of the equinoxes; and in another place, of the north pole being above and the south pole below, as a reason why in our hemisphere the north winds predominate over the south.

Hieron asked Archimedes to discover, without damaging it, whether a certain crown or wreath was made of pure gold, or if the goldsmith had fraudulently alloyed it with some baser metal. While Archimedes was turning the problem over in his mind, he chanced to be in the bath house. There, as he was sitting in the bath, he noticed that the amount of water that was flowing over the top of it was equal in volume to that part of his body that was immersed. He saw at once a way of solving the problem. He did not delay, but in his joy leaped out of the bath. Rushing naked through the streets towards his home, he cried out in a loud voice that he had found what he sought. For, as he ran, he repeatedly shouted in Greek; "Eureka! Eurekal I've found it! I've found it!"

I was working with these very long-chain … extended-chain polymers, where you had a lot of benzene rings in them. … Transforming a polymer solution from a liquid to a fiber requires a process called spinning. … We spun it and it spun beautifully. It [Kevlar] was very strong and very stiff—unlike anything we had made before. I knew that I had made a discovery. I didn't shout "Eureka!" but I was very excited, as was the whole laboratory excited, and management was excited, because we were looking for something new. Something different. And this was it.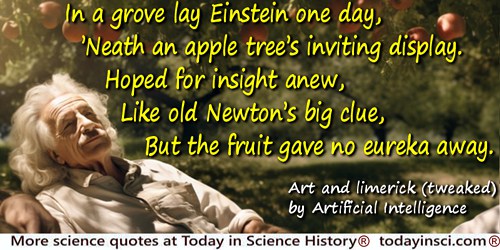 In a grove lay Einstein one day,
'Neath an apple tree's inviting display.
  Hoped for insight anew,
  Like old Newton's big clue,
But the fruit gave no eureka away.

My eureka moment was in the dead of night, the early hours of the morning, on a cold, cold night, and my feet were so cold, they were aching. But when the result poured out of the charts, you just forget all that. You realize instantly how significant this is—what it is you've really landed on—and it's great!
[About her discovery of the first pulsar radio signals.]

The most exciting phrase to hear in science, the one that heralds new discoveries, is not 'Eureka!' (I found it!) but 'That's funny....'

When Archimedes jumped out of his bath one morning and cried Eureka he obviously had not worked out the whole principle on which the specific gravity of various bodies could be determined j and undoubtedly there were people who laughed at his first attempts. That is perhaps why most scientific pioneers are so slow to disclose the nature of their first insights when they believe themselves to be on a track of a new discovery.