Forgetting Quotes (13 quotes)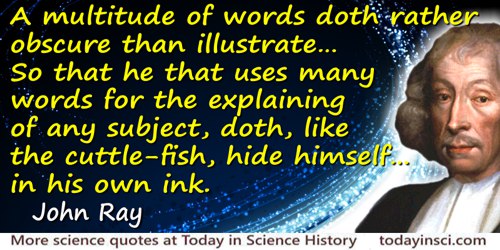 A multitude of words doth rather obscure than illustrate, they being a burden to the memory, and the first apt to be forgotten, before we come to the last. So that he that uses many words for the explaining of any subject, doth, like the cuttle-fish, hide himself, for the most part, in his own ink.

Creation science has not entered the curriculum for a reason so simple and so basic that we often forget to mention it: because it is false, and because good teachers understand why it is false. What could be more destructive of that most fragile yet most precious commodity in our entire intellectual heritage—good teaching—than a bill forcing our honorable teachers to sully their sacred trust by granting equal treatment to a doctrine not only known to be false, but calculated to undermine any general understanding of science as an enterprise?.

Electric and magnetic forces. May they live for ever, and never be forgot, if only to remind us that the science of electromagnetics, in spite of the abstract nature of its theory, involving quantities whose nature is entirely unknown at the present, is really and truly founded on the observations of real Newtonian forces, electric and magnetic respectively.

If our intention had been merely to bring back a handful of soil and rocks from the lunar gravel pit and then forget the whole thing, we would certainly be history's biggest fools. But that is not our intention now—it never will be. What we are seeking in tomorrow's [Apollo 11] trip is indeed that key to our future on earth. We are expanding the mind of man. We are extending this God-given brain and these God-given hands to their outermost limits and in so doing all mankind will benefit. All mankind will reap the harvest…. What we will have attained when Neil Armstrong steps down upon the moon is a completely new step in the evolution of man.

In the Life of Darwin by his son, there is related an incident of how the great naturalist once studied long as to just what a certain spore was. Finally he said, "It is this, for if it isn't, then what is it?" And all during his life he was never able to forget that he had been guilty of this unscientific attitude, for science is founded on certitude, not assumption.

It is sometimes important for science to know how to forget the things she is surest of.

It must never be forgotten that education is not a process of packing articles in a trunk. Such a simile is entirely inapplicable. It is, of course, a process completely of its own peculiar genus. Its nearest analogue is the assimilation of food by a living organism: and we all know how necessary to health is palatable food under suitable conditions.

My eureka moment was in the dead of night, the early hours of the morning, on a cold, cold night, and my feet were so cold, they were aching. But when the result poured out of the charts, you just forget all that. You realize instantly how significant this is—what it is you've really landed on—and it's great!
[About her discovery of the first pulsar radio signals.]

Nowhere would anyone grant that science and poetry can be united. They forgot that science arose from poetry, and did not see that when times change the two can meet again on a higher level as friends.

There is a story that once, not long after he came to Berlin, Planck forgot which room had been assigned to him for a lecture and stopped at the entrance office of the university to find out. Please tell me, he asked the elderly man in charge, 'In which room does Professor Planck lecture today?' The old man patted him on the shoulder 'Don't go there, young fellow,' he said 'You are much too young to understand the lectures of our learned Professor Planck'.

We forget how strained and paradoxical is the view of nature which modern science imposes on our thoughts.

We have forgotten how to be good guests, how to walk lightly on the earth as its other creatures do.

[W]e are prone to forget that the planet may be measured by man, but not according to man.