Reap Quotes (9 quotes)
Clearly, we have compiled a record of serious failures in recent technological encounters with the environment. In each case, the new technology was brought into use before the ultimate hazards were known. We have been quick to reap the benefits and slow to comprehend the costs.

Don't judge each day by the harvest you reap, but by the seeds you plant.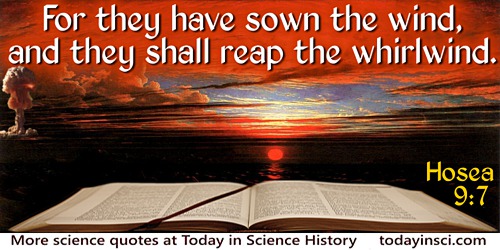 For they have sown the wind, and they shall reap the whirlwind.

He sows hurry and reaps indigestion.

If you are young, then I say: Learn something about statistics as soon as you can. Don't dismiss it through ignorance or because it calls for thought. … If you are older and already crowned with the laurels of success, see to it that those under your wing who look to you for advice are encouraged to look into this subject. In this way you will show that your arteries are not yet hardened, and you will be able to reap the benefits without doing overmuch work yourself. Whoever you are, if your work calls for the interpretation of data, you may be able to do without statistics, but you won't do as well.

In Cairo, I secured a few grains of wheat that had slumbered for more than thirty centuries in an Egyptian tomb. As I looked at them this thought came into my mind: If one of those grains had been planted on the banks of the Nile the year after it grew, and all its lineal descendants had been planted and replanted from that time until now, its progeny would to-day be sufficiently numerous to feed the teeming millions of the world. An unbroken chain of life connects the earliest grains of wheat with the grains that we sow and reap. There is in the grain of wheat an invisible something which has power to discard the body that we see, and from earth and air fashion a new body so much like the old one that we cannot tell the one from the other.…This invisible germ of life can thus pass through three thousand resurrections.

Natural history is a matter of observation; it is a harvest which you gather when and where you find it growing. Birds and squirrels and flowers are not always in season, but philosophy we have always with us. It is a crop which we can grow and reap at all times and in all places and it has its own value and brings its own satisfaction.

There are two kinds of physician - those who work for love, and those who work for their own profit. They are both known by their works; the true and just physician is known by his love and by his unfailing love for his neighbor. The unjust physicians are known for their transgressions against the commandment; for they reap, although they have not sown, and they are like ravening wolves; they reap because they want to reap, in order to increase their profit, and they are heedless of the commandment of love.

We may regard [Scheele] not only as having given the first indication of the rich harvest to be reaped by the investigation of the compounds of organic chemistry, but as having been the first to discover and make use of characteristic reactions by which closely allied substances can be detected and separated, so that he must be considered one of the chief founders of analytical chemistry.