(source)

Francis Darwin

(16 Aug 1848 - 19 Sep 1925)




Science Quotes by Francis Darwin
(5 quotes)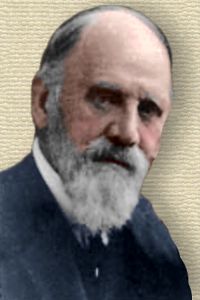 Although [Charles Darwin] would patiently go on repeating experiments where there was any good to be gained, he could not endure having to repeat an experiment which ought, if complete care had been taken, to have told its story at first—and this gave him a continual anxiety that the experiment should not be wasted; he felt the experiment to be sacred, however slight a one it was. He wished to learn as much as possible from an experiment, so that he did not confine himself to observing the single point to which the experiment was directed, and his power of seeing a number of other things was wonderful. ... Any experiment done was to be of some use, and ... strongly he urged the necessity of keeping the notes of experiments which failed, and to this rule he always adhered.

— Francis Darwin

But in science the credit goes to the man who convinces the world, not to the man to whom the idea first occurs. Not the man who finds a grain of new and precious quality but to him who sows it, reaps it, grinds it and feeds the world on it.

— Francis Darwin

For books [Charles Darwin] had no respect, but merely considered them as tools to be worked with. … he would cut a heavy book in half, to make it more convenient to hold. He used to boast that he had made Lyell publish the second edition of one of his books in two volumes, instead of in one, by telling him how ho had been obliged to cut it in half. … his library was not ornamental, but was striking from being so evidently a working collection of books.

— Francis Darwin

The love of experiment was very strong in him [Charles Darwin], and I can remember the way he would say, "I shan't be easy till I have tried it," as if an outside force were driving him. He enjoyed experimenting much more than work which only entailed reasoning, and when he was engaged on one of his books which required argument and the marshalling of facts, he felt experimental work to be a rest or holiday.

— Francis Darwin

There was one quality of mind which seemed to be of special and extreme advantage in leading him [Charles Darwin] to make discoveries. It was the power of never letting exceptions pass unnoticed. Everybody notices a fact as an exception when it is striking or frequent, but he had a special instinct for arresting an exception. A point apparently slight and unconnected with his present work is passed over by many a man almost unconsciously with some half-considered explanation, which is in fact no explanation. It was just these things that he seized on to make a start from. In a certain sense there is nothing special in this procedure, many discoveries being made by means of it. I only mention it because, as I watched him at work, the value of this power to an experimenter was so strongly impressed upon me.

— Francis Darwin

---
Quotes by others about Francis Darwin (1)
Mr. Darwin in the Zoological Gardens. Frank Darwin told me his father was once standing near the hippopotamus cage when a little boy and girl, aged four and five, came up. The hippopotamus shut his eyes for a minute. "That bird's dead," said the little girl; "come along."

See also:
16 Aug - short biography, births, deaths and events on date of Darwin's birth.