Artificial Intelligence Quotes (12 quotes)
AI Quotes
A multidisciplinary study group ... estimated that it would be 1980 before developments in artificial intelligence make it possible for machines alone to do much thinking or problem solving of military significance. That would leave, say, five years to develop man-computer symbiosis and 15 years to use it. The 15 may be 10 or 500, but those years should be intellectually the most creative and exciting in the history of mankind.

A year spent in artificial intelligence is enough to make one believe in God.

Artificial intelligence is based on the assumption that the mind can be described as some kind of formal system manipulating symbols that stand for things in the world. Thus it doesn't matter what the brain is made of, or what it uses for tokens in the great game of thinking. Using an equivalent set of tokens and rules, we can do thinking with a digital computer, just as we can play chess using cups, salt and pepper shakers, knives, forks, and spoons. Using the right software, one system (the mind) can be mapped onto the other (the computer).

Charles Babbage proposed to make an automaton chess-player which should register mechanically the number of games lost and gained in consequence of every sort of move. Thus, the longer the automaton went on playing game, the more experienced it would become by the accumulation of experimental results. Such a machine precisely represents the acquirement of experience by our nervous organization.

Charlie Holloway (human): "What we hoped to achieve was to meet our makers. To get answers. Why they even made us in the first place."
David (AI robot): "Why do you think your people made me?"
Charlie Holloway (human): "We made you because we could."
David (AI robot): "Can you imagine how disappointing it would be for you to hear the same thing from your creator?"
Charlie Holloway (human): "I guess it's good you can't be disappointed."

If a superior alien civilisation sent us a message saying, "We'll arrive in a few decades," would we just reply, "OK, call us when you get here—we'll leave the lights on"? Probably not—but this is more or less what is happening with AI. Although we are facing potentially the best or worst thing to happen to humanity in history, little serious research is devoted to these issues outside non-profit institutes such as the Cambridge Centre for the Study of Existential Risk, the Future of Humanity Institute, the Machine Intelligence Research Institute, and the Future of Life Institute. All of us should ask ourselves what we can do now to improve the chances of reaping the benefits and avoiding the risks.

Man is not a machine, ... although man most certainly processes information, he does not necessarily process it in the way computers do. Computers and men are not species of the same genus. .... No other organism, and certainly no computer, can be made to confront genuine human problems in human terms. ... However much intelligence computers may attain, now or in the future, theirs must always be an intelligence alien to genuine human problems and concerns.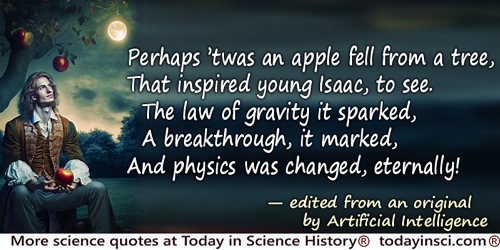 Perhaps 'twas an apple fell from a tree,
That inspired young Isaac, to see.
The law of gravity it sparked,
A breakthrough, it marked,
And physics was changed, eternally!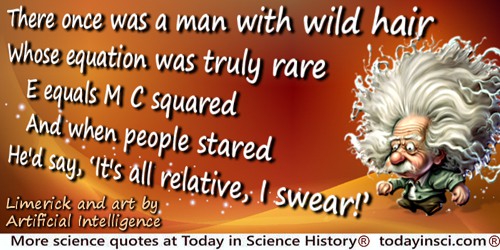 There once was a man with wild hair
Whose equation was truly rare
E equals M C squared
And when people stared
He'd say, "It's all relative, I swear!"

There ought to be something about computers and artificial intelligence [in Bartlett's Familiar Quotations]. Surely somebody somewhere said something memorable.

We shall therefore say that a program has common sense if it automatically deduces for itself a sufficient wide class of immediate consequences of anything it is told and what it already knows. ... Our ultimate objective is to make programs that learn from their experience as effectively as humans do.

When intelligent machines are constructed, we should not be surprised to find them as confused and as stubborn as men in their convictions about mind-matter, consciousness, free will, and the like.