Eternally Quotes (4 quotes)
I have never looked upon ease and happiness as ends in themselves–this critical basis I call the ideal of a pigsty. The ideals that have lighted my way, and time after time have given me new courage to face life cheerfully, have been Kindness, Beauty, and Truth. Without the sense of kinship with men of like mind, without the occupation with the objective world, the eternally unattainable in the field of art and scientific endeavors, life would have seemed empty to me. The trite objects of human efforts–possessions, outward success, luxury–have always seemed to me contemptible.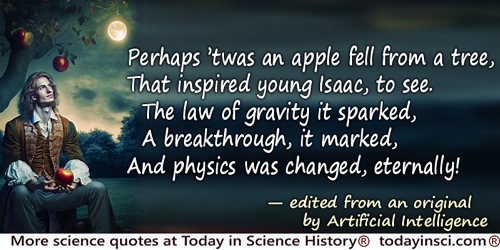 Perhaps 'twas an apple fell from a tree,
That inspired young Isaac, to see.
The law of gravity it sparked,
A breakthrough, it marked,
And physics was changed, eternally!

Thus you can throw yourself flat on the ground, stretched out upon Mother Earth, with certain conviction that you are one with her and she with you ... For eternally and always there is only now, one and the same now; the present is the only thing that has no end.

To Nature nothing can be added; from Nature nothing can be taken away; the sum of her energies is constant, and the utmost man can do in the pursuit of physical truth, or in the applications of physical knowledge, is to shift the constituents of the never-varying total. The law of conservation rigidly excludes both creation and annihilation. Waves may change to ripples, and ripples to waves; magnitude may be substituted for number, and number for magnitude; asteroids may aggregate to suns, suns may resolve themselves into florae and faunae, and floras and faunas melt in air: the flux of power is eternally the same. It rolls in music through the ages, and all terrestrial energy—the manifestations of life as well as the display of phenomena—are but the modulations of its rhythm.