(source)

Wernher von Braun

(23 Mar 1912 - 16 Jun 1977)




Science Quotes by Wernher von Braun
(25 quotes)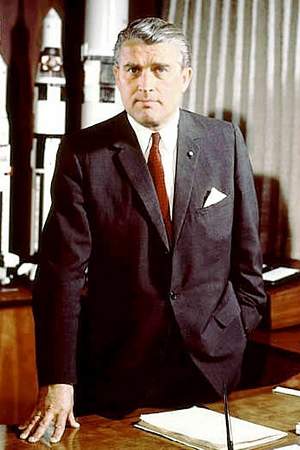 [I find it as difficult] to understand a scientist who does not acknowledge the presence of a superior rationality behind the existence of the universe as it is to comprehend a theologian who would deny the advances of science.

— Wernher von Braun

Basic research is what I am doing when I don't know what I am doing.

— Wernher von Braun

Can a physicist visualize an electron? The electron is materially inconceivable and yet, it is so perfectly known through its effects that we use it to illuminate our cities, guide our airlines through the night skies and take the most accurate measurements. What strange rationale makes some physicists accept the inconceivable electrons as real while refusing to accept the reality of a Designer on the ground that they cannot conceive Him?

— Wernher von Braun

For me, the idea of a creation is not conceivable without invoking the necessity of design. One cannot be exposed to the law and order of the universe without concluding that there must be design and purpose behind it all.

— Wernher von Braun

For my confirmation, I didn't get a watch and my first pair of long pants, like most Lutheran boys. I got a telescope. My mother thought it would make the best gift.

— Wernher von Braun

I believe in an immortal soul. science has proved that nothing disintegrates into nothingness. Life and soul, therefore, cannot disintegrate into nothingness, and so are immortal.

— Wernher von Braun

I have a boundless admiration for the solitary genius which enabled [Hermann Oberth] to bring into focus all of the essential elements of a gigantic concept, together with the human greatness which allowed him, in shy reserve, to bear with equanimity the "crucify hims" as well as the "hosannas" of public opinion. I myself owe him a debt of gratitude not only for being the guiding light of my life, but also for my first contact with the theoretical and practical aspects of rocket technology and space travel.

— Wernher von Braun

I have learned to use the word "impossible" with the greatest caution.

— Wernher von Braun

I have to be a two-headed monster—scientist and public-relations man.

— Wernher von Braun

I'm convinced that before the year 2000 is over, the first child will have been born on the moon.

— Wernher von Braun

If our intention had been merely to bring back a handful of soil and rocks from the lunar gravel pit and then forget the whole thing, we would certainly be history's biggest fools. But that is not our intention now—it never will be. What we are seeking in tomorrow's [Apollo 11] trip is indeed that key to our future on earth. We are expanding the mind of man. We are extending this God-given brain and these God-given hands to their outermost limits and in so doing all mankind will benefit. All mankind will reap the harvest…. What we will have attained when Neil Armstrong steps down upon the moon is a completely new step in the evolution of man.

— Wernher von Braun

In this age of space flight, when we use the modern tools of science to advance into new regions of human activity, the Bible ... this grandiose, stirring history of the gradual revelation and unfolding of the moral law ... remains in every way an up-to-date book. Our knowledge and use of the laws of nature that enable us to fly to the Moon also enable us to destroy our home planet with the atom bomb. Science itself does not address the question whether we should use the power at our disposal for good or for evil. The guidelines of what we ought to do are furnished in the moral law of God. It is no longer enough that we pray that God may be with us on our side. We must learn again that we may be on God's side.

— Wernher von Braun

It [space travel] will free man from his remaining chains, the chains of gravity which still tie him to this planet. It will open to him the gates of heaven.

— Wernher von Braun

It is in scientific honesty that I endorse the presentation of alternative theories for the origin of the universe, life and man in the science classroom. It would be an error to overlook the possibility that the universe was planned rather than happening by chance.

— Wernher von Braun

My experiences with science led me to God. They challenge science to prove the existence of God. But must we really light a candle to see the sun?

— Wernher von Braun

Nature does not know extinction; all it knows is transformation. … Everything science has taught me—and continues to teach me—strengthens my belief in the continuity of our spiritual existence after death. Nothing disappears without a trace.

— Wernher von Braun

Our sun is one of 100 billion stars in our galaxy. Our galaxy is one of billions of galaxies populating the universe. It would be the height of presumption to think that we are the only living things in that enormous immensity.

— Wernher von Braun

Our two greatest problems are gravity and paperwork. We can lick gravity, but sometimes the paperwork is overwhelming.

— Wernher von Braun

Research is what I'm doing when I don't know what I'm doing.

— Wernher von Braun

Science does not have a moral dimension. It is like a knife. If you give it to a surgeon or a murderer, each will use it differently.

— Wernher von Braun

Science has found that nothing can disappear without a trace. Nature does not know extinction. All it knows is transformation.

— Wernher von Braun

Scientists today … have to be able to interpret their findings just as skillfully as they conduct their research. If not, a lot of priceless new knowledge will have to wait for a better man.

— Wernher von Braun

The more you're in this business, the more conservative you get. I've been in it long enough to be very conservative, to want to improve what we've got rather than begin by building what we haven't.

— Wernher von Braun

There is beauty in space, and it is orderly. There is no weather, and there is regularity. It is predictable…. Everything in space obeys the laws of physics. If you know these laws, and obey them, space will treat you kindly. And don't tell me that man doesn't belong out there. Man belongs wherever he wants to go—and he'll do plenty well when he gets there.

— Wernher von Braun

There is just one thing I can promise you about the outer-space program: Your tax dollar will go farther.

— Wernher von Braun

---
Quotes by others about Wernher von Braun (4)
"Once the rockets are up
Who cares where they come down
That's not my department,"
Says Wernher von Braun.

I've met a lot of people in important positions, and he [Wernher von Braun] was one that I never had any reluctance to give him whatever kind of credit they deserve. He owned his spot, he knew what he was doing, and he was very impressive when you met with him. He understood the problems. He could come back and straighten things out. He moved with sureness whenever he came up with a decision. Of all the people, as I think back on it now, all of the top management that I met at NASA, many of them are very, very good. But Wernher, relative to the position he had and what he had to do, I think was the best of the bunch.

Gather round while I sing you of Wernher von Braun,
A man whose allegiance
Is ruled by expedience.
Call him a Nazi, he won't even frown.
"ha, Nazi sch-mazi," says Wernher von Braun.

[Werhner von Braun] is a human leader whose eyes and thoughts have always been turned toward the stars. It would be foolish to assign rocketry success to one person totally. Components must necessarily be the work of many minds; so must successive stages of development. But because Wernher von Braun joins technical ability, passionate optimism, immense experience and uncanny organizing ability in the elusive power to create a team, he is the greatest human element behind today's rocketry success

See also: