Indigestion Quotes (5 quotes)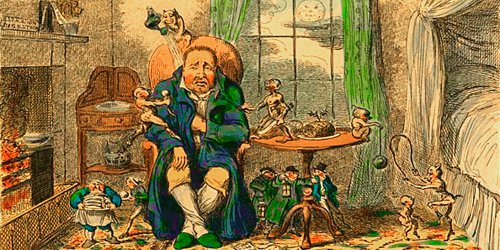 Indigestion caricature by George Cruickshank, publ. by McLean (1 Aug 1835)
(source)
A light supper, a good night's sleep, and a fine morning have often made a hero of the same man, who, by indigestion, a restless night, and a rainy morning would have proved a coward.

He sows hurry and reaps indigestion.

Indigestion is the failure to adjust a square meal to a round stomach.

The hypochondriac disease consists in indigestion and consequent flatulency, with anxiety or want of pleasurable sensation.

The maladies that affect the clerks aforesaid arise from three causes. First, constant sitting, secondly, the incessant movement of the the hand and always in the same direction, thirdly, the strain on the mind from the effort not to disfigure the books by errors or cause loss to their employers when they add, subtract, or do other sums in arithmetic. The diseases brought about by sitting constantly are easily understood; they are obstructions of the viscera, e.g. the liver and spleen, indigestion in the stomach, numbness of the legs, a considerable hindrance in the circulation of the blood, and an unhealthy habit.